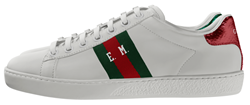 Demand for apparel, footwear, and other products that consumers can customize and personalize online continues to grow.
SAN JUAN, Puerto Rico (PRWEB) October 26, 2017
Embodee Corp., the global leader in creating virtual product experiences, today announced a collaboration with one of the world's leading online retailers for women's luxury fashion, mytheresa.com. Embodee's patented technology will enable mytheresa.com's customers to interact with high-fidelity 3D renderings of Gucci footwear and customize it.
Embodee, which has long counted some of the industry's pre-eminent sports apparel companies among its customers, recently broadened its focus to include luxury fashion retailers and brands.
"Demand for apparel, footwear, and other products that consumers can customize and personalize online continues to grow," said Embodee CEO and founder André Wolper. "mytheresa.com is a leader in an important segment, and we welcome this opportunity to work with them."
mytheresa.com will first feature Gucci's popular leather Ace DIY trainers, which can be personalized with initials buyers choose. They can place the initials on one or both shoes, separate the letters with periods if desired, and select among six featured colors—light blue, gold, pink, green, silver, and orange.
Gucci's customizable Ace trainers are available here at mytheresa.com for four weeks. All variations of the Ace customized sneakers retail for $698 U.S.
Embodee virtualizes samples of the footwear into dynamic digital assets so they can be viewed in vivid detail from any perspective on any device. The images of the Gucci Ace are streamed from Embodee's cloud-based 3D-rendering service and customized via its gBuilder application and integrated with mytheresa.com.
About Embodee
Embodee Corp. was founded in 2008 to develop methods for helping the apparel industry use 3D visualizations in merchandising and selling products online. The company now delivers virtual product experiences, enabling businesses to give their customers an immersive visual interaction with their products, enriching the online shopping experience.
About mytheresa.com
mytheresa.com (http://www.mytheresa.com) is one of the world's leading online luxury retailers. Launched in 2006, mytheresa.com stands for the finest edit of over 200 international designer brands, such as Balenciaga, Saint Laurent, Prada, Valentino, and many more. The product selection boasts clothes, shoes, bags, and accessories. In 2014, mytheresa.com was acquired by Neiman Marcus Group LTD LLC, a luxury, multi-brand omni-channel fashion retailer.