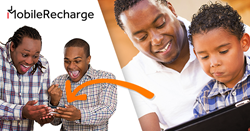 Easy and super convenient, top up any international prepaid cell phone in just a few seconds! Love it! (Delano Mizrahi on Trustpilot.com)
ATLANTA (PRWEB) October 25, 2017
MobileRecharge.com, the online mobile top up service for expats and their relatives, added more African countries and operators in their list of destinations. Africans abroad can now top up mobiles in Botswana, Malawi, Uganda, Tanzania, Lebanon, Burkina Faso and Burundi, no matter where they live in the world. The process takes few seconds online, on the MobileRecharge.com website, and no contract is needed: http://MobileRecharge.com/s/mobile_credit_to_Africa
Orange Botswana subscribers can receive instantly up to $35.55 on a transaction, from their relatives or friends abroad. But the minimum order is $8.90 on MobileRecharge.com. If the sender is not from the USA, the amounts change a little, without affecting the costs. For example, if the mobile recharge is sent from Canada, the minimum amount one can top up for an Orange mobile in Botswana is $11.27, and the maximum $45.02.
Malawi is ready to welcome mobile top ups from abroad for its Airtel subscribers. It takes seconds for them to get the mobile credit once the sender abroad has placed the order online on MobileRecharge.com. The maximum amount that can be sent on one transaction is $101.31 if the relative or friend lives in Canada, or $80 if he/she lives in the USA or United Arab Emirates, or 61 pounds if he/she lives in the United Kingdom, etc. So, there are some differences of maximum and minimum amounts that can be sent according to the country where they are sent from, but this fact does not affect costs.
Smile subscribers in Uganda have been waiting for long to be able to get mobile credit top ups from their relatives abroad. Besides Smart, Airtel, MTN, Africell, Warid and Uganda Telecom subscribers, Smile users are also ready to get the mobile credit instantly via MobileRecharge.com. The minimum amount someone from Uganda can receive from abroad within one transaction is $5. So, depending on the budget, that is the minimum his/her relative abroad can send. The balance is updated instantly, but for exceptional situations one can check the status of the transaction in one's free online account.
African expats who have relatives or friends in Tanzania can send TTCL and Halotel balance on MobileRecharge.com. This is rather new, since by now the only subscribers in Tanzania who could get mobile credit from friends and relatives abroad were those of Airtel, Tigo, Zantel, Vodacom and Smart. The mobile balance gets to the person in Tanzania instantly, and it only takes seconds for the sender to top up online, no matter the country where he/she is established.
Expats who still have relatives or friends in Lebanon, can send them Alfa and Touch credit now with MobileRecharge.com. The process is over in seconds, and the mobile credit gets to the destination immediately. Amounts that can be sent differ according to the country one sends the mobile credit from. For example, if someone in the USA sends Alfa credit to someone in Lebanon, he can choose from several amounts ranging $10.80 - $81.
People who are still in contact with relatives in Burkina Faso can top up Orange mobiles now, beside the older operator available on MobileRecharge.com, Telemob. The online transaction takes seconds from any part of the world, and the person's mobile in Burkina Faso gets credited instantly and can be used immediately. The minimum amount that can be sent in one transaction is $9.05 for the sender in the USA, $11.65 for that in Australia, $11.46 for the sender in Canada. For the rest of the countries, one should check the values on MobileRecharge.com.
Those who have been sending credit to Econet Burundi subscribers should consider that as a result of rebranding, they need to choose Econet Leo on MobileRecharge.com on their next top up with MobileRecharge.com. Smart credit continues to be loaded from abroad via MobileRecharge.com, in the same conditions.
Payment can be made with any major card or using a PayPal account, in seconds, and within a maximum security environment. Transactions are accepted in any currency, according to the country the expat sender lives in. The only condition is to open a free account on the website, where all transactions will be listed for future reference.
Also, the mobile credit reaches the destination in seconds on a regular basis. But it may take few minutes or longer sometimes to be processed according to other factors such as the local operator processing. That's why, the online account on MobileRecharge.com will be also useful to check the status of the transaction.
The processing fee that applies for such services is the minimum possible on MobileRecharge.com to facilitate the mobile credit flow between countries, and eventually between families and friends who support or want to surprise each other.
MobileRecharge.com has a high ranking of 8.8 out of 10 on Trustpilot.com and 9.2 on ResellerRatings.com, just to mention 2 review platforms. Most expats who placed their reviews there mention several advantages for choosing MobileRecharge.com as their international top up service:

Top ups can be made directly on the website in less than 1 minute
MobileRecharge app is free to install from Play Store or App Store
MobileRecharge app is also available in Spanish for Latin Americans
The online ordering form is very easy, for both experienced and inexperienced PC or smartphone users
Customer Support is very responsive on chat and email, in several languages.
Transactions are secured, and the service is BBB accredited, along other customer satisfaction authorities.
World Top Up Day on November 10, each year, comes with gifts for top up givers, something no one else does.
MobileRecharge.com is a website dedicated to expats worldwide, travellers or professionals who live abroad temporarily, or independent mobile top uppers. MobileRecharge.com is also the initiator of the first World Top Up Day in history, dedicated to top up givers worldwide as a generous social category. The website is a brand of KeepCalling, with more than 10 years of experience on the global market. The mother company is a telecommunications business registered in 2002 in the USA, listed by Inc 5000 as one of the fastest growing companies in the USA for 5 consecutive years. Presently, KeepCalling provides its services to hundreds of thousands of consumers, with a focus on customer satisfaction.