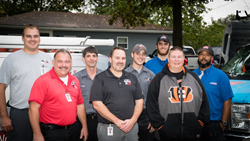 Columbus, Ohio (PRWEB) October 24, 2017
Columbus Worthington Air and ARS/Rescue Rooter Columbus, network providers for ARS/Rescue Rooter, gave back to a military veteran in need by doing a total HVAC, plumbing and sewer renovation. The central Ohio-based air conditioning, heating and plumbing services providers heard about Jean Pettit, a military veteran, and donated over $20,000 of home services to her.
Jean was in the Army National Guard from 1989 to 1998 and then served in Desert Storm from 1990 to 1991. She currently transports patients for the VA hospital, but she found herself in dire need of serious home maintenance. "Columbus Worthington Air and ARS are installing a furnace and a water heater for me. They are also fixing my sewer line," says Jean. "I bought my house almost a year ago, and the seller sold me a lemon. He flipped this house, didn't get any permits, and nothing was up to code."
"It is a privilege to be able to serve those who have selflessly served our country," says Matt Daubenmire, Service Manager at Columbus Worthington Air. Matt was also in the military as are thousands of other ARS employees around the country. In fact, ARS/Rescue Rooter is working in targeted markets to complete similar projects. In addition to giving away HVAC and water heater equipment and installation, ARS/Rescue Rooter employees in every branch across the country will be engaging in volunteer and civic opportunities geared towards veterans' services.
"Finally after a year of searching, I finally got the help I needed to be able to stay in my home," says Jean. "I am so thankful to Columbus Worthington Air and ARS/Rescue Rooter Columbus for helping me out. It made me cry when they told me they were going to help. I am very humbled and so thankful."
Jason Norris, General Manager of ARS/Rescue Rooter, adds, ""To work for an organization that allows me to do stuff like this is incredible. I can't say enough about it."
ABOUT AMERICAN RESIDENTIAL SERVICES: Based in Memphis, Tenn., privately-owned ARS operates a network of more than 70 locally-managed service centers in 23 states, with approximately 6,500 employees. The ARS Network features industry-leading brands including, A.J. Perri, Aksarben ARS, Allgood, Andy's Statewide, ARS, Aspen Air Conditioning, Atlas Trillo, Beutler, Blue Dot, Bob Hamilton, Brothers, Columbus Worthington Air, Comfort Heating & Air, Conway Services, Efficient Attic Systems (EAS), Florida Home Air Conditioning, Green Star Home Services, Irish Plumber, McCarthy Services, Rescue Rooter / Proserv, Rescue Rooter, RighTime Home Services, RS Andrews, The Irish Plumber, Unique Services, "Will" Fix It, and Yes! Air Conditioning and Plumbing. As an Exceptional Service Provider, the ARS Network serves both residential and light commercial customers by providing heating, cooling, indoor air quality, plumbing, drain cleaning, sewer line, radiant barrier, insulation and ventilation services. Each location has a knowledgeable team of trained specialists. ARS requires background checks and drug tests on all employees. We hire professionals with the highest level of integrity. Providing exceptional service and ensuring the highest standards of quality, ARS has the experience to do any job right – the first time, with all work fully guaranteed. ARS: "Making it work. Making it right."
###