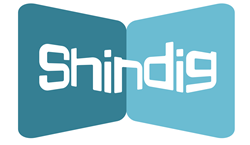 NEW YORK (PRWEB) October 24, 2017
EdSurge, the online resource for the education technology community, is announcing a monthly series of interactive interviews using Shindig's large-scale video chat platform. Envisioned as a "talk show for edtech," the series will feature experts in higher education to speak on pressing issues in the education and edtech spaces and be moderated by Jeffrey R. Young, senior editor at EdSurge.
The series will kick off with an event centered around the question of who controls artificial intelligence in higher education and why this matters. This first installment will take place November 2, 3:30pm ET, from the annual EDUCAUSE conference in Philadelphia. Featured guests will include Candace Thille, assistant professor of education at Stanford University's Graduate School of Education, and Mark Milliron, co-founder & chief learning officer at Civitas Learning.
"There's never been a more important time to have dialogue—not just lob opinions back and forth. We love the opportunity to do these interviews and, most critically, to use this platform to bring other voices into the conversation," said Betsy Corcoran, CEO and Founder of EdSurge.
Since this event is taking place on Shindig's unique video chat platform, virtual attendees will be able to mingle with peers in the event in free and fluid private video and text chats as well as interact with the featured interviewees by asking video chat questions and submitting text questions.
These virtual offerings are intended to augment EdSurge's news coverage to provide a forum for community engagement and outreach to a larger audience.
"We're very excited to power EdSurge's innovative discussion series and make it more than a simple Q&A – it'll be totally interactive and elevate the edtech discourse for the community," said Christopher Downs, Vice President of Business Development for Higher Education of Shindig.
RSVP for the first in this series at https://gateway.shindig.com/event/edsurgelive.
To host a groundbreaking video chat event such as this series by EdSurge, visit https://shindig.com/contact-us.
About Shindig:
Shindig addresses the dual shortcomings of current online learning platforms. It's unique, patented video chat technology enables both robust teacher to student interactivity optimal for instruction, and the free form student to student interactivity requisite for student body formation, cohesion and retention.
It recently received recognition as a 2017 Cool Vendor in Social Software and Collaboration from prestigious technology review consultancy Gartner Group. EmergingEdTech.com recently called Shindig, "A Pioneering Technology for the School of Tomorrow."
With Shindig, instructors can address an online audience of up to a thousand. They can share the stage to take questions, or sidebar privately with a students. Similarly, students can themselves privately discuss, share, debate, or confer in private self-initiated video chats.
Shindig's early adopters include prominent organizations and individuals, ranging from Yale University, Cornell University, Georgetown University, Arizona State University, Drexel University, EdSurge,TED, CNN, The Economist, Forbes, General Assembly to Bill Gates, Sheryl Sandberg and Jim Cramer.