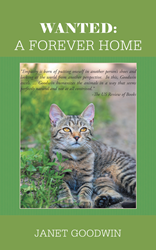 PALMA DE GANDIA, Spain (PRWEB) October 30, 2017
A Spain-based writer and animal advocate has released her debut children's book, which chronicles the adventures of a sheepherding dog and a flock of feral cats as they journey through the countryside in search of their "forever homes." In "Wanted: A Forever Home," author Janet Goodwin presents a heartwarming story, told from the perspective of its four-legged protagonists, about purpose, compassion and loyalty.
Set in rural Spain, Goodwin's book homes in on the story of Portuguese mountain dog Gentleman George, who, after losing his master and suffering abuse at the hands of strangers, is tasked with tracking down a flock of street kitties and herding them back home. Goodwin, who co-founded Spanish animal charity Protección y Educación para Animales (PEPA) with her husband in 2005, was inspired to write "Wanted: A Forever Home" after witnessing cruelty and animal neglect first hand.
"Through this book as well as my charity, I want to reach out to young people, make them aware of what is happening all around them and provide them a window into the suffering many animals experience when they are abandoned, neglected or abused," Goodwin said. "With the wonderful help of volunteers, PEPA has been able to save hundreds of lives – my hope is that this book can contribute to such an important cause in a similar way."
"Young readers who love animal stories will be enraptured, and the subtle messages woven in – particularly around caring for strays – will land effectively," a Foreword Clarion reviewer wrote about the book. "Animal lovers will delight in the wild adventures and earned luxuries of the fun and furry group in 'Wanted: A Forever Home.'"
With a cast of eclectic, unforgettable characters, "Wanted: A Forever Home" unravels an entertaining yarn about the importance of caring for and respecting animals while also calling for increased awareness surrounding important issues, such as animal neglect and abuse.
"Wanted: A Forever Home"
By Janet Goodwin
ISBN: 978-1-5246-3302-8 (paperback); 978-1-5246-3301-1 (electronic)
Available at the AuthorHouse Online Bookstore, Barnes & Noble and Amazon
About the author
Janet Goodwin co-founded Spain-based animal charity, P.E.P.A. (Protección y Educación para Animales) in 2005, and alongside many dedicated volunteers, has focused her efforts on finding forever homes for abandoned dogs and cats and the sterilization of feral cats. She currently resides in Palma de Gandia, Spain, with her husband, three dogs and cat, Lucy. To learn more, please visit http://www.janetgoodwin.com.
###
Review Copies & Interview Requests:
LAVIDGE – Phoenix
480-648-7557
dgrobmeier@lavidge.com
General Inquiries:
LAVIDGE – Phoenix
480-998-2600 x 584
mdriver@lavidge.com