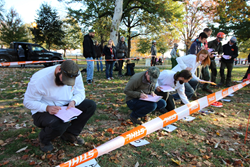 Students attending SCD will participate in the Tree Care Skills Competition in Columbus' Goodale Park on Friday, November 2 (8:30am – 12:00pm).
LONDONDERRY, N.H. (PRWEB) October 26, 2017
Story/Photo Opportunity:
-What: Student Tree Care Skills Competition
-When: Friday, November 2 (8:30am – 12:00pm)
-Where: Goodale Park, Columbus, Ohio
-Who: Mark Chisholm, STIHL spokesperson, International Society of Arboriculture (ISA) certified arborist, and three time ISA international tree climbing champion, will be on hand until noon to discuss tree climbing and the tree care industry.
-How: Contact Amy Tetreault, atetreault (at) tcia.org
The Tree Care Skills Competition is comprised of three main events:
-Work Climb: Starting in the tree, the contestant climbs to stations throughout the canopy, ringing a bell to signal completion.
-Belayed Scramble: The contestant climbs a pre-installed rope along a pre-determined route into the tree and rings a bell when they reach the top.
-Safety Gear Check: This event will test the contestant's ability to distinguish between safe and unsafe climbing gear and personal protective equipment (PPE).
In addition to the climbing competition, SCD is hosting the largest FREE career development event built specifically for students in the tree care industry. TCIAF anticipates more than 200+ collegiate and vocational students will attend the event. These students are career-focused and many will come to Columbus specifically for the Job Fair to meet potential employers.
Chris Ahlum, owner of Ahlum & Arbor Tree Preservation in Columbus, Ohio, has supported SCD for years - he was the competition winner during his tenure at Ohio State. "Our greatest assets for all our companies are people. You can have the best equipment but without the people you can't run that equipment or do the work," says Chris. "They are the face of all our companies and we need to keep investing in them and growing them."
State labor officials say Ohio's unemployment rate was 5.4 percent in August 2017, up from 5.2 percent in July. This Student Career Days event is looking to solve this issue on a micro scale by connecting students with employers who are actively looking to hire new employees. For more information about participating local and national tree care companies, visit the SCD page at expo.tcia.org.
The Tree Care Industry Association Foundation (TCIAF) works to advance education and professional development in the green industry, improve safety and reduce accident rates in the tree care industry, and to disseminate information key to practitioners and consumers about proper tree care. TCIAF programs include Student Career Days (SCD), and the Arborist Safety Training Institute (ASTI).
TCIAF's sister organization, the Tree Care Industry Association (TCIA), is a trade association of 2,300 tree care firms and affiliates whose mission is to advance tree care businesses. TCIA develops safety and education programs, standards of tree care practice, and management information for arboriculture firms around the world. TCIA is also proud to present TCI EXPO, the world's largest tree care industry trade show and conference. Learn more about TCIAF and TCIA at http://www.tcia.org.