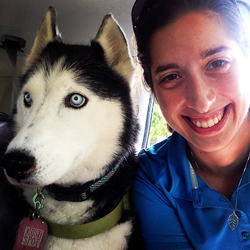 "I know what it's like to be frustrated and embarrassed by your dog's behavior and am passionate about finding a solution to give you a dog you can include in your life!" Leila Shiekhy, Owner
Frederick, MD (PRWEB) November 02, 2017
K-9 Harmony is a Frederick-based dog training company dedicated to helping owners struggling with their dog's behavior. K-9 Harmony kicked off October by attending the Birth and Babies Fair, as they shift their focus to helping families struggling with their dog's behavior achieve lasting success. Adding a dog into the family comes with its challenges, and K-9 Harmony aims to provide the guidance families need for happiness with their family dog. Their effective training programs make it simple for families to integrate training into their daily life, for a dog that is a joy to have around rather than a source of stress!
Families that include dogs have a unique set of challenges, including teaching the children how to behave around dogs and dogs how to behave around children. In fact, most dog bites are from a dog that is familiar to the child. Most families get a dog so that their children can experience the joy and companionship of having a dog in the home but sometimes find out that it isn't always a seamless transition, whether they've added a puppy to their family or added an older dog to their family. Guidance to work through behavior issues can mean the difference between the dog staying in the home, or ending up at the shelter.
K-9 Harmony was founded with the mission to improve the lives of dog owners struggling with their dog's behavior by providing simple, effective solutions. Our approach aims to build a relationship of trust and understanding between dogs and their owners, without complicated training programs. As a result of our training programs, our clients are able to include their dogs in their life, leading to more fun and less stress for life with their dog.
"I know what it's like to be frustrated and embarrassed by your dog's behavior and am passionate about finding a solution to give you a dog you can include in your life!"
K-9 Harmony is a Frederick, MD based dog training company that provides families with a holistic approach to solving behavior issues. Since its inception in 2015, K-9 Harmony has taught families how to have a happy and well-behaved dog they can include in their life. For more information on K-9 Harmony, please email info@k9harmony.us or visit http://www.k9harmony.us.