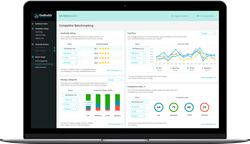 Boston, MA (PRWEB) October 25, 2017
GasBuddy, the only smartphone app connecting 70 million drivers with their Perfect Pit Stop, today announced that GasBuddy Business Pages, the smartphone app company's B2B Retailer Software-as-a-Service (SaaS), is now offering major fuel retailers and convenience store chains the ultimate competitive advantage with new Market Share Intelligence solutions.
These new capabilities allow companies to evaluate their position in the industry and discover the level of performance achieved by their competitors by using consumer traffic data, in-store sales, brand compliance from distributors and direct consumer feedback. This competitive advantage empowers companies to increase brand awareness, in-store visits, market share, sales and profits.
Key features of GasBuddy Business Pages Market Share Intelligence Solutions include:

Competitive benchmarking at the regional and national level on metrics such as GasBuddy ratings, fuel price trends, ratings categories and foot traffic.
New proprietary Competitive Index (CI) to understand how stores perform against the competition at the station and brand level.
A Brand Engagement metric at the station or brand level that directly correlates to increasing foot traffic—calculated using price spots, reviews and station impressions.
"Retailers know they must stand out from the crowd, but the real question is whether a retailer knows how their performance compares to their competitors in a cluttered digital and location-based landscape," said Greg Fox, chief revenue officer at GasBuddy. "We are thrilled to provide clarity and additional value to our clients with competitive benchmarking solutions that enable them to make informed, data-driven decisions, whether their competitor owns the station down the street or owns hundreds of locations nationwide."
For more on GasBuddy Business Pages Market Share Intelligence solutions or to schedule a demo, visit the GasBuddy Business Pages website.
About GasBuddy Business Pages
GasBuddy Business Pages is the award-winning B2B SaaS platform for the $650 billion retail fuel and convenience store market that enables marketers and operations personnel alike to help them create a "Perfect Pit Stop" for consumers. That is, to manage critical customer-facing store information such as hours, prices and amenities; to manage and maintain store performance with respect to customer service and experience; and to directly market to GasBuddy consumers products such as loyalty programs and other incentives. GasBuddy Business Pages ties directly to its consumer-facing smartphone app which has been downloaded more than 70 million times, and attracts millions of station ratings and reviews each month.
About GasBuddy
GasBuddy is a smartphone app connecting drivers with their Perfect Pit Stop. With 70 million downloads, GasBuddy is the leader in crowdsourced information to help drivers find the best gas prices, closest stations, friendliest service, cleanest restrooms, tastiest coffee and much more. GasBuddy is the leading source for the most accurate, real-time fuel prices at more than 140,000 gas stations in the U.S., Canada and Australia. The Company's B2B Retailer Software-as-a-Service (SaaS), known as GasBuddy Business Pages, provide Fuel Marketers and Retailers their best opportunity to maintain their station information, manage their brand, and promote to their target consumer audience.