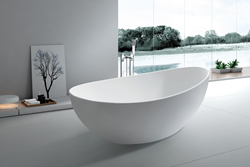 DALLAS (PRWEB) October 26, 2017
The Interior Gallery has started putting their wide range of modern bathtubs on Sale leading up to the Thanksgiving and Christmas Holidays. The company's range of modern bathtubs consists of soaking acrylic bathtubs, solid surface bathtubs and even clawfoot bathtubs. The Interior Gallery is well known for offering high quality and luxurious bathroom products at factory direct prices. With the recent attractive price mark down, consumers have more reason to celebrate as this translates into huge savings for them.
According to a spokesperson for the company, many home owners plan their bathroom renovations during the summer and usually contact or visit them at their huge showroom in Allen, Texas to check out the company's extensive range of bathroom products. The items showcased at their showroom are modern bathtubs, modern bathroom vanities, award winning modern toilets, bathroom pedestal sinks, linen cabinets, mirrors and lighting. While at the showroom, customers will be able to see the actual products and decide which items they would like to purchase together that will complement the look of their entire bathroom. If you cannot visit the showroom, The Interior Gallery ships nationwide and into Canada.
The company's beautiful bathroom products have even been featured on the popular DIY Network's Bathtastic episode showcasing a complete bathroom design from sketch work conception to the actual bathroom being put together so marvelously. Home owners looking for contemporary and bold designs will be pleased to know that the company even offers bathtubs that are bold red and black in color.
The Interior Gallery also has a contemporary and classical furniture collection such as living room sets as well as high quality home lighting such as crystal chandeliers. Some of the famous companies that have bought products from them include The National Geographic, Disney, General Electric, Microsoft, and famed jeweler Tiffany & Co.
For more information, please visit http://www.TheInteriorGallery.com or contact their customer service at toll free 866-205-6867. The company's showroom is located in Allen, Texas which houses a great selection of their products for viewing and is open from Monday to Friday (9:00am – 6:00pm CST).