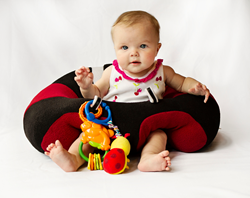 Hugaboo baby seat lets little one see the world upright.
SAN MARCOS, Calif. (PRWEB) October 26, 2017
The holidays can be especially overwhelming with a new arrival. It can be hard to stash that never-ending shopping list and focus on the basics when baby can't quite sit up on his own. Give the gift of comfort with Hugaboo! Making it easy to put baby down and give him the freedom to observe his surroundings, this perfect mommy product helps to develop sensory and motor skills. A great gift for any new mom, the Hugaboo Baby Seat won't tip forward or slide out with the unique leg and back support! Explore the different features of Hugaboo:

Upright seating position- Helps stabilize your infant's back, sides, and legs while simultaneously learning to sit up
360º of comfy support- Safely wraps your baby in plush comfort as they are observing and exploring their surroundings
Attached seat bottom - Prevents your infant from sliding or falling forward onto the floor
Portable- Lightweight and compact size allows for you to have your baby with you in any room!
Fun Included- Two toy attachments provide hours of entertainment that are perfect for floor time activities that develop sensory and motor skills
Machine Washable- 100% polyester and fiberfill is washer friendly making spot removing a breeze!
Hugaboo is offered in various colors and retailed at a range of affordable prices from $59.99-$69.99 at http://www.myhugaboo.com.