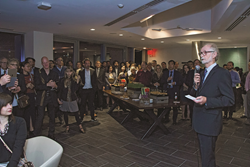 "For the past half-century, we at the SBJGroup have dedicated ourselves to inspired design excellence combined with the highest level of technical expertise," says founder Stephen B. Jacobs
New York (PRWEB) October 24, 2017
Renowned architectural and interior design firm, Stephen B. Jacobs Group/Andi Pepper Interior Design, marked its 50th anniversary at a gala celebration of the company's many contributions to the design and construction industry throughout North America. The firm is a leader in newly constructed, adaptive reuse, and historic preservation projects. Over the years, the firm's original designs have shaped some of the city's most iconic buildings and interiors.
More than 120 guests, including roughly 50 employees from the firm's Park Avenue South office, joined founders Stephen B. Jacobs and Andi Pepper at one of SBJGroup's newest projects: LEVEL BK, the 5th building in a 1,500-unit, mixed-income housing development on the Williamsburg waterfront in Brooklyn. The celebratory evening took place at a stunning rooftop lounge amid gourmet hors d'oeuvres and breathtaking views of Manhattan and Brooklyn.
Founded in Manhattan in 1967, SBJGroup has grown from a 4-person startup to one of the region's most active full-service architectural and interior design practitioners, with a staff of more than 50 architects and interior designers. SBJGroup is known not only for its local commercial and residential developments, but also internationally for its lifestyle hotels, adaptive reuse, and preservation projects.
"For the past half-century, we at the SBJGroup have dedicated ourselves to inspired design excellence combined with the highest level of technical expertise that offers developers and property owners a comprehensive vision incorporating real estate, economic, design, construction, and marketing viewpoints," says Stephen B. Jacobs, FAIA, an early advocate for using obsolete buildings as a housing resource.
The SBJGroup portfolio includes boutique hotels such as the original Gansevoort in the Meatpacking District, the Breakwater in Miami Beach, the Gansevoort Park Avenue Hotel, 60 Thompson, the Hotel Giraffe, the Library Hotel, and the soon-to-open Hotel "X" in Toronto, Ontario.
Other major projects include: 70 Pine, the conversion of an iconic Art Deco skyscraper in Lower Manhattan into residential apartments; Hawthorn Park and The Encore, a pair of 54- and 48-story residential towers abutting Lincoln Center; 325 Fifth Avenue at 32nd Street; Emerald Green at 320 West 38th Street; and the Edge and Level BK in Williamsburg.
SBJGroup's pragmatic approach to building design has made the firm the first choice for some of New York City's leading developers, including: Glenwood Management, Douglaston Development, Rose Associates, Inc., Kaufman Realty Organization, Simon Baron Development, and Trinity Real Estate.
###
About SBJGroup
Stephen B. Jacobs Group, PC/Andi Pepper Interior Design is a full-service architectural and interior design firm established in 1967. SBJGroup has spent the past half-century shaping some of New York's most iconic buildings and interiors, including high-rise condominiums, international hotels, boutique hotels, office buildings, and adaptive reuse and preservation projects. In many commissions, the firm has provided turnkey services, leveraging its combination of architects and interior designers working together under one roof for a seamless integration of the two disciplines. The work of the firm has been extensively published and has won numerous awards for its design excellence.
Following the retirement of Herbert E. Weber, Jr., AIA, SBJGroup now consists of four principals; In addition to Stephen B. Jacobs, FAIA, these include Isaac-Daniel Astrachan, AIA; Jennifer Cheuk, AIA; and Alexander B. Jacobs, AIA, and interior designer Andi Pepper.
For more information, visit http://www.sbjgroup.com.
Twitter: https://twitter.com/SBJGroup
LinkedIn: https://www.linkedin.com/company/5103687/
Facebook: https://www.facebook.com/SBJGroupArch/