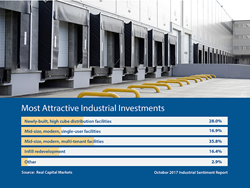 "The industrial sector continues to draw a wide range of investors, due to its stability and the potential for long-term growth." Steve Shanahan, Executive Managing Director, RCM
CARLSBAD, Calif. (PRWEB) October 25, 2017
Industrial investment is expected to continue its healthy run into 2018, as strong leasing, construction, and investment sales fuel the market, according to the recent Real Capital Markets (RCM)/SIOR Investment Sentiment Report.
A landslide number of investors and brokers across the country believe investment levels will at least stay the same, with many predicting a slight increase in activity. The report shows that 90.3 percent of brokers and investors believe investment activity will remain comparable to recent levels, with 47.8 percent saying activity will increase, even if only nominally.
"The industrial sector continues to draw a wide range of investors, due to its stability and the potential for long-term growth," said Steve Shanahan, Executive Managing Director, RCM. "That equilibrium and other market dynamics make industrial investment properties the preferred option among a wide range of investors. We don't foresee a dramatic shift in the near term."
This industrial cycle, and the record expansion in leasing, construction and capital market sales, has been striking in its longevity. Investment sales volume has been strong since 2011, with demand outstripping supply in many core markets. According to those surveyed, there is no end in sight, perhaps for at least 12-18 months.
In September 2017, RCM and SIOR collectively surveyed their databases of industrial property investors and brokers to gauge investment sentiments, the greatest threats to the industry, the factors most influencing their acquisition decisions and where they see the greatest opportunities.
Highlights of the RCM/SIOR Study, released in late October, include:
Greatest Impact: E-Commerce or General Business Growth?
Respondents in the RCM/SIOR Investment Sentiment Study were asked to identify specific factors that were having the greatest impact on industrial investment activity. Overall, 37.4 percent identified e-commerce as having the greatest impact followed by the general strength of the economy at 34.5 percent. Some participants adopted the attitude that "as e-commerce goes, so goes the industrial market". Yet others noted that the strength and success of the market cannot be placed solely on any single economic factor.
"One of the most interesting findings of the RCM/SIOR Investor Sentiment Study was the balance in which investment activity is being influenced," said Tina Lichens, COO of RCM. "It isn't just about e-commerce. Across the country, participants pointed to the ripple effect of extended supply chain dynamics, recovery in the housing market and increases in atypical manufacturing operations as driving industrial investment activity."
No Single Greatest Threat, But Plenty of Options
Investors and brokers agreed that the greatest threats to prolonged strength in the industrial investment arena include overbuilding and oversupply, the lack of quality assets for investing and unrealistic seller expectations. Yet there was little agreement in the order of importance. For investors, the top threats were overbuilding (40.6 percent), unrealistic seller expectations (22.9 percent) and lack of supply of quality assets (17.7 percent). Brokers ranked lack of quality supply first (46.4 percent) followed by unrealistic seller expectations (14.6 percent).
Respondents also addressed activity across key submarkets, pricing expectations, and how the political climate might influence industrial investment activity into 2018.
Beauty, and Opportunity, is in the Eye of the Beholder
Buoyed primarily by investors' preference, mid-size, modern, multi-tenant properties are currently viewed as the most attractive investment opportunity, with over one third (35.8 percent) of all respondents selecting those types of properties. For principals, mid-size, multi-tenant facilities are favored at a rate of 2:1 over infill development opportunities, followed closely by newly-built high-cube distribution facilities.
Increasingly, according to industrial professionals, investors are becoming more and more tolerant of rent rollover. Where vacancy and rent rollover were once taboo, investors now see an opportunity to increase rents and improve NOI therefore enhancing value.
In the survey, infill development and mid-size single tenant facilities were viewed similarly. One broker, however, suggested that infill may be more talk than opportunity saying that some use the term simply to portray greater importance for a fringe suburban location.
Industrial Assets: Pricing Them Right
Pricing of industrial assets has been strong for several years and is at record levels in some core markets. The study found that principals and brokers believe pricing has not yet plateaued, though it may be on the horizon. Like the prognosis for investment activity levels, an overwhelming majority—92.7 percent—of principals and brokers believe pricing will at least stay the same, with 33.8 percent anticipating increases of as much as five percent or more.
Capping Cap Rate Compression?
Though there is great optimism in virtually all aspects of industrial investment metrics—activity levels and pricing—the expectations for further cap rate compression are more tempered. More than 17 percent of principals and brokers believe there could be some level of compression in the next 12-18 months. The vast majority, however, believe that cap rates will either remain the same (46.9 percent) or increase slightly (34.8 percent). One investor suggested the market has "reached the upper limits of pricing" and expressed "surprise by any meaningful compression in cap rates".
According to the findings of the RCM/SIOR Industrial Investment Sentiment Report, and supported by a series of in-depth interviews with principals and brokers, the current state of the market is as good as it has been in perhaps as many as 30 or more years. To learn more about the strength of the market, and why industrial experts don't expect any substantive changes in the near term, download a copy of the report.
About SIOR
Headquartered in Washington, DC, the SOCIETY OF INDUSTRIAL AND OFFICE REALTORS (SIOR, http://www.sior.com) is a global professional organization that certifies commercial real estate service providers with the exclusive SIOR designation. Individuals who earn their SIOR designation adhere to the highest levels of accountability and ethical standards. Only the industry's top professionals qualify for the SIOR designation. Today, there are nearly 3,100 SIOR members in 630 cities in 34 countries.
About Real Capital Markets:
Founded in 1999, Real Capital Markets (RCM) is the global marketplace for buying and selling CRE. RCM increases the speed, exposure, and security of CRE sales through its streamlined online platform. Solutions include integrated property marketing, transaction management, and business intelligence tools to unify broker-level and firm-level data and work flows. RCM has executed 53,000+ assignments with $1.9 trillion in CRE transactions. Over 50% of all U.S. commercial assets sold, over $10 million, are brought to market using RCM's online marketplace annually.
Follow RCM on:
Twitter: @rcm1
LinkedIn: https://www.linkedin.com/company/real-capital-markets
Click Here to Download: Industrial Sentiment Report