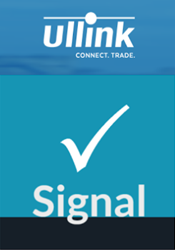 ULLINK's NYFIX client community faces complex regulatory issues, and we're excited to help simplify compliance through Signal.
NEW YORK (PRWEB) October 25, 2017
Signal, a substantial shareholding and position limit monitoring and reporting solution from Advise Technologies, is now available on ULLINK's NYFIX Portal.
Advise Technologies, a leading provider of regulatory compliance solutions for investment managers, offers coverage for 89 jurisdictions and global exchanges through its Signal software platform. Signal users can compare their holdings to relevant jurisdictional and exchange rules, receive alerts when actions must be taken, and prepare disclosure notifications that can be filed with regulators.
Through the Advise partnership with ULLINK, a global provider of electronic trading and connectivity solutions to the financial community, Signal can now be accessed by the community of buy-side firms active on NYFIX, the Global Connectivity Utility.
"ULLINK's NYFIX client community faces complex regulatory issues, and we're excited to help simplify compliance through Signal," said Roger van Elderen, Business Development Manager for Advise Europe.
Signal targets an area of compliance that is becoming increasingly challenging, and includes Substantial Shareholding Disclosures, Exchange and MiFID II Position Limit Tracking, Issuer Limits, Short Selling Regulations, Market Abuse Regulation, 13D, 13G, and more.
The NYFIX Portal is an online ecosystem of third-party providers offering capital markets participants the possibility to leverage easy-to-access applications, available over a dedicated service delivery platform.
Philippe Carré, Global Head of Business Development for ULLINK, added "Our NYFIX client community is confronted by a multiplicity of challenges – we are there to help turn those into opportunities, primarily by simplifying the on-boarding and integration of innovative solutions. The NYFIX Portal, launched early 2017, is a ULLINK initiative targeted at the entire NYFIX community, close to 1,500 firms, with an increasing number of clients connecting to leverage the range of services already deployed on-line. We have been combining the strength and reach of the ULLINK Global Alliance Programme and the NYFIX Portal online platform to great effect."
About Advise
Advise Technologies, a CSS company, is a premier provider of reporting and compliance software for investment managers. With five products – Consensus, Notes, Signal, Shuttle, and Vault – it provides innovative solutions to the regulatory and operational challenges faced by clients. Advise was founded in 2010 and is headquartered in New York with offices in major European financial centers.
For more information, please contact info(at)advisetechnologies(dot)com or visit http://www.AdviseTechnologies.com.
About ULLINK
About ULLINK ULLINK is a global provider of market leading multi-asset trading technology and infrastructure for buy-side and sell-side market participants, including NYFIX, one of the industry's largest FIX based trading communities. Trusted by over 150 of the world's top-tier banks and brokers, the company provides consistent, reliable access to the most current and innovative trading solutions available. Our multi-asset solutions allow you to connect to your desired markets, trade when and where you want, while being able to comply with global regulation. From our 10 offices covering all the major global financial centers, our team will advise on the best approach to address your challenges and deploy our technology.
For more information, please contact connect(at)ullink(dot)com or visit http://www.ullink.com.
Follow us on Twitter @ULLINK_News and LinkedIn