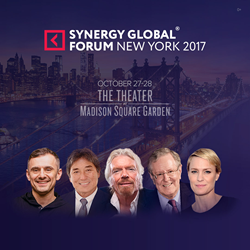 "We are thrilled to give intimate access to journalists at no cost. We look forward to seeing them at the forum." - Augusto Carrizo, Synergy Global Forum New York City Director
NEW YORK (PRWEB) October 25, 2017
Synergy Global Forum, the mega-conference featuring speeches from the likes of Richard Branson, Gary Vaynerchuk, Jack Welch and 11 other global thought leaders, is offering journalists the opportunity to attend at no cost.
By going to the Synergy Global Forum website and inputting the 100% discount code PARTNERS100, writers, bloggers, social media influencers and other members of the media will get to see this once-in-a-lifetime event free of charge.
About Synergy Global Forum
The Culture and Tech panel accompanies the conference's incredible line-up of speakers, including Sir Richard Branson, Gary Vaynerchuk, Jack Welch, Robin Wright, Steve Forbes, Nassim Nicholas Taleb, Simon Sinek, Malcolm Gladwell, Ray Kurzweil, Jimmy Wales, Guy Kawasaki, Naveen Jain and Jordan Belfort.
Synergy Global Forum was recently named "the powerhouse event of the fall" by Inc. Magazine. The forum will offer a glimpse into the mind of the world's most legendary living leaders.
During the event, these 11 global icons will gather on one stage to discuss today's most cutting edge topics related to leadership, innovation, strategy, technology, social networks and "fake news," entrepreneurship, performance, efficiency, social responsibility, intellect and growth.
Synergy Global Forum will also feature 4 lively panels on entrepreneurship, technology, social media influence and business disruption. The panels will feature major personalities from the worlds of venture capital, tech, TV, social media, publishing and more.
Synergy Global Forum tickets can be booked online at SGF2017.com/world