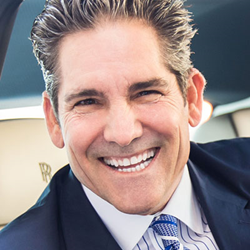 Millionaires become millionaires due to focus, hard work, consistency, investing money, and passion for the purpose that drives them!
MIAMI (PRWEB) November 08, 2017
International Sales Expert and Social Media Influencer, Grant Cardone has just announced he will be giving away $1,000,000 cash on social media channels over the next 70 days. Platforms on which followers can win the cash include Cardone's official Facebook, YouTube, Instagram, SnapChat, LinkedIn, and Twitter accounts. Each day, over $16,000 will be given away between now and the end of the year. Each day there will likely be multiple winners.
"I am giving away $1,000,000 in cash to thank my followers who have been sharing their successes using my materials and advice. I appreciate them—it's a way for me to give back." —Grant Cardone
There are several qualifiers to win the cash. First, you have to be subscribed to the Grant Cardone social media platform you're posting on. After you are subscribed, it's all about engagement.
"Get Grant's attention and show him you are helping him grow his audience by tagging friends," said Sheri Hamilton, COO of Cardone Training Technologies, Inc. "Those who get his attention with posts and tag their friends in those posts will have a greater chance of winning large amounts of cash."
Cardone decided that rather than spend the money on advertising with Facebook & Google, it would be smarter to give the money directly to his followers. This is one of the biggest, if not THE biggest cash giveaway campaign from a social media influencer in history.
Rules to win:
1) Winners will be announced daily so there will be multiple chances to win and each individual can win more than once.
2) In addition to tagging a friend, each post must tag @grantcardone @elenacardone
3) Each post must add the hashtags #10X #RealDeal #MillionDollarGiveaway
4) You must have notifications on so when Cardone goes live you can claim winnings when he announces your name.
5) Winnings over $500 per person will be reported to the IRS & you are responsible for any tax obligation.
The cash giveaways have already begun. Cardone's social channels are found below:
► Where to follow for Cash Giveaways
Instagram: https://www.instagram.com/grantcardone
Facebook: https://www.facebook.com/grantcardonefan
SnapChat: https://www.snapchat.com/add/grantcardone
Twitter: https://twitter.com/GrantCardone
YouTube: https://www.youtube.com/user/GrantCardone
LinkedIn: https://www.linkedin.com/in/grantcardone/
About Grant Cardone: Grant Cardone is a New York Times bestselling author, the #1 sales trainer in the world, and an internationally renowned speaker on leadership, real estate investing, entrepreneurship, social media, and finance. His 5 privately held companies have annual revenues exceeding $100 million. Forbes named Mr. Cardone #1 of the "25 Marketing Influencers to Watch in 2017". Grant's straight-shooting viewpoints on the economy, the middle class, and business have made him a valuable resource for media seeking commentary and insights on real topics that matter. He regularly appears on Fox News, Fox Business, CNBC, and MSNBC, and writes for Forbes, Success Magazine, Entrepreneur.com, and Business Insider. His Axiom Award Winning, Audible Top 10 Sell or Be Sold urges his followers and clients to make success their duty, responsibility, and obligation. He currently resides in South Florida with his wife and two daughters. Learn more at http://www.grantcardone.com