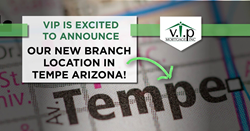 We are excited about the new partnership that VIP offers and their commitment to be leaders in the Arizona real estate market.
Tempe, AZ (PRWEB) October 24, 2017
VIP Mortgage continues to grow here in the Valley, opening its most recent branch location at 9280 S Kyrene Rd Suite 134 in Tempe. The established team of originators – led by Kent Nielson and Mike Jones – aligned their successful operations under VIP last month, citing the company's ongoing investments in technology, operations, marketing and business development, as key reasons for making the move.
Nielson and Jones are both Arizona natives and leading industry veterans who are passionate about helping others achieve homeownership. Both have ranked as:

Top 150 of Mortgages Originators nationally with personal pipelines of more than $45 million annually.
Top one percent of mortgage originators for seven consecutive years.
Top five producing branch managers at previous company for over five years.
"Our executive management team identified which areas of the mortgage business we wanted additional support with to achieve the continued success and growth goals we had as an organization. VIP helped fill the gaps we identified and aligns inherently with the goals we have set for the future," explained Kent Nielson, Tempe Branch Manager.
The Tempe branch is completely self-contained with application to funding all done under one roof. Along with seasoned processors, underwriters and funders, the on-site staff includes 12 originating loan officers and 12 licensed assistants. The group prides itself on having the latest and greatest loan products sold by a knowledgeable sales team, with the goal of always making sure customers interests comes first.
"It's clear that VIP is committed to investing in new technology, operational efficiency, marketing, business development, culture and most importantly – bringing value to our realtor partners and clients in the business," Nielson said. "We know that in the real estate market these resources will help us continue the success we currently have for many years to come. We are excited about the new partnership that VIP offers and their commitment to be leaders in the Arizona real estate market."
VIP Mortgage Vice President Keith Teegardin added, "Kent, Mike and the rest of their team have quickly made their mark here at VIP, landing in the top five branches and ranking as top originators in terms of production for the month of September. In such a short time, it feels like we have already worked together for years. Culturally, as well as tactically, we are completely aligned enabling the magic to happen naturally. I'm excited for what the future has in store."
About VIP Mortgage
VIP Mortgage is a full-service mortgage lender committed to restoring the reputation of the housing industry. VIP Mortgage, Inc. does Business in Accordance with Federal Fair Lending Laws. NMLS ID 145502. For state specific licensing, visit http://www.vipmtginc.com/national-licenses/.