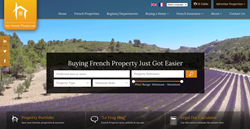 The draw map feature is revolutionary and allows people to precisely pinpoint on a map the areas they know and like.
(PRWEB) October 27, 2017
My-French-House.com has been named the best real estate agency website in France in the European Property Awards just weeks after launching a new platform aimed at making finding a home in France easier.
The online property specialist has been helping people find their dream home in France since 2004 and owner Patrick Joseph says he has drawn on his years of experience and customer feedback to create a fresh platform for his online business that makes searching for a property, arranging viewings and buying overseas as simple as possible.
There are around 157,000 UK citizens living in France and in recent years Patrick has seen an increase in enquiries for French property from other parts of Europe and the USA too.
"France remains the number one destination for Brits buying abroad but it is becoming ever more popular for relocations from all over Europe and British expats further afield wanting to get closer to home in Europe," he explained.
"This is something we took into consideration when designing our new online property platform and we have invested significantly in tools that make it easier for house hunters to filter and search according to specific criteria and areas."
Features include a dedicated login area where home hunters can save their favourite properties, make notes against them and use the comparison tool to highlight features and compare of each to easily compare. Patrick believes the tools will transform the way customers create shortlists for viewing trips to France.
The new design also offers users an interactive map which allows them to draw bespoke areas and narrow their search to a specific area.
Patrick said: "The draw map feature is revolutionary and allows people to precisely pinpoint on a map the areas they know and like rather than having to search by region or department.
"In our experience people often know they want to be in a certain geographical area but they don't want their search to be limited by administrative boundaries."
Patrick has helped thousands of buyers from the UK and other parts of Europe and beyond to find their ideal home in France. He said the Real Estate Property Award was an endorsement of his company's understanding of the way people look for and buy properties in France.
"This award acknowledges both our expertise in French property and the in-depth research that has gone into redesigning the online experience for property investors. We are delighted with the accolade, particularly as it comes so soon after the launch of our new website."