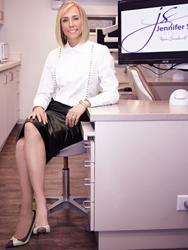 New York, NY (PRWEB) October 30, 2017
More than 45 million Americans suffer from headaches and related symptoms such as facial pain and vertigo. Well-known New York City orthodontist Jennifer Stachel is pleased to announce that she is now offering the drug-free and needle-free TruDenta treatment in her office.
What Is TruDenta?
Derived from techniques used in sports medicine, TruDenta begins with a computer-aided evaluation of the head, neck, and jaw, along with a detailed health history. If TruDenta treatment is indicated, numerous FDA-approved techniques are used to retrain the nerves and muscles. Each treatment lasts approximately 50 minutes, and patients may need up to 12 weekly treatments for full relief, and maintenance visits on an as needed basis. A TruDenta home care kit is also available.
Who Is a Candidate for TruDenta?
Those who have one or more headaches per week or miss at least two days of work due to headaches per month may be candidates for TruDenta. Other indicators include chronic (lasting for 12 months or more) pain in the face, jaw, neck, shoulders, or arms, along with ringing in the ears. Only a qualified practitioner can determine whether TruDenta is right for a specific individual.
About Jennifer Stachel Orthodontics
Purchased by Dr. Jennifer Stachel in 2012, Jennifer Stachel Orthodontics is a well-known and respected orthodontist in NYC with more than 10 years of experience. Jennifer Stachel Orthodontics specializes in orthodontics and Invisalign, and also provides Trudenta headache relief and teeth whitening treatments. To learn more or to request an appointment, call (212) 877-7177, visit the office at 315 W 57th Street, Suite 204, New York, NY, 10019, or go to https://www.stachelorthodonticsnyc.com/.