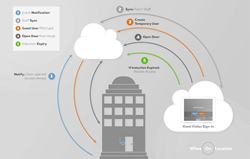 BETHESDA, Md. (PRWEB) October 30, 2017
Brivo, the global leader in cloud-based access control and mobile credentials, announced today that Brivo Onair is integrated with WhosOnLocation, a leader in visitor management and mustering, and braXos Security Software via the Brivo Onair API.
Brivo and WhosOnLocation have partnered to provide a secure, cost effective and scalable building access control platform with integrated visitor, contractor and evacuation management technology. The combined solution allows customers to easily keep track of visitors and or contractors who are on-site, ensuring that access is only granted to those authorized to be on-site and providing valuable information in emergency scenarios. Visitors or contractors signing in on a WhosOnLocation kiosk automatically become 'temporary users' in Brivo Onair and can be provisioned with a temporary keycode or card to access appropriate areas in the building.
"WhosOnLocation's evacuation management capability is further strengthened by the integration with Brivo Onair," said Darren Whitaker-Barnett, CEO and Founder of WhosOnLocation. This means that in the event of an emergency, a customer can use the WhosOnLocation application to account for and verify the safety of employees, visitors and contractors. Wardens can clear zones within their site and identify which people would need assistance. "We are really excited about the integration as WhosOnLocation software can tell customers what percentage of their employees, visitors, and contractors are safe and it allows them to send a roll call text that asks everyone's status," stated Darren Whitaker-Barnett, CEO and Founder of WhosOnLocation.
"Another set of tools that helps us complete our offering is the integration with braXos," says Steve Van Till, President and CEO of Brivo. braXos' physical security middleware platform is the crucial software conduit that sits between a company's physical security systems, enterprise software and building management, and looks to create an integrated physical security ecosystem. The integration with braXos provides customers with secure elevator access by integrating Brivo access control with its primary product, Steward and leveraging integrations with 6 (and counting) of the leading destination dispatch systems.
Partners and developers can connect to the Brivo cloud-based access control platform using the Brivo Onair® API which provides the capabilities to build physical security applications that best fit different business needs. For more information about how the API economy is impacting physical security you can refer to the article written by Steve Van Till.
About Brivo
Brivo is a SaaS company offering physical access control, video surveillance, and mobile credentials for commercial buildings. Currently serving over ten million users, Brivo provides a scalable and centralized security management system to its customers. Brivo is unique in offering both access control and video management in a single cloud-based platform that is available via web browser or mobile applications for anywhere, anytime management and control. Headquartered in Bethesda, MD, Brivo was founded in 1999.