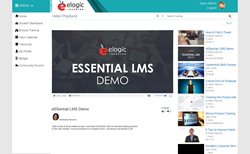 We believe the new Video Management feature is going to revolutionize the way our clients build and deliver training.
(PRWEB) October 31, 2017
In today's day and age, video plays a large part in how society consumes information. In fact, YouTube states approximately 1 billion hours of video are watched every day on its website alone. So, it comes as no surprise that video also plays a big role in modern day learning.
This is why eLogic Learning prioritized the delivery of the new Video Management feature in their world class eSSential LMS application.
Through the Video Management functionality, videos can be uploaded into the eSSential LMS without the time and cost of eLearning development. This gives clients the flexibility to offer video as standalone training, or nestled in a learning path.
Users can also upload videos into the LMS themselves. This ability will be based on the permissions set by the LMS administrator, but if enabled, users can add videos they created using something as simple as their phone and have it either automatically approved or routed to an administrator for review prior to making it available to the user community.
"We believe the new Video Management feature is going to revolutionize the way our clients build and deliver training," says Greg Shell, VP of Professional Services at eLogic Learning. "We have heard loud and clear from our client base that training has to be delivered in smaller chunks and easy for end users to find as they need it. We have been modeling our LMS after the way society has been accustomed to getting most of their questions answered: go to a search engine, type in your question, and watch the video."
To get a live look at the eSSential LMS and its new Video Management feature, visit our website and request a free demo today: https://elogiclearning.com/essential-lms/demo-request/.
About eLogic Learning
A leader in the eLearning industry, eLogic Learning offers organizations world class, comprehensive LMS technology and content solutions increase efficiencies and productivity and a strong ROI. The eLogic eSSential LMS supports over five million monthly users and was named the #1 LMS by The Craig Weiss Group, the #1 All-Purpose Extended Enterprise LMS by Talented Learning, and Best Corporate/Enterprise Learning Solution Finalist in the SIIA CODiE awards. The eSSential LMS makes it easy to manage eLearning, instructor-led and virtual training events, keep up with regulatory compliance requirements, analyze training usage and results, sell courses online with robust ecommerce features, and much more.
In addition to its Learning Management System, eLogic develops custom eLearning content and provides an extensive third-party courseware library. With a comprehensive turnkey approach to implementing learning strategies, eLogic offers professional services and proven expertise in content strategy, business process change and the development of corporate training programs.