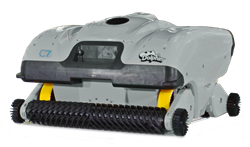 Maytronics' C7 pool cleaning robots deliver an unmatched level of hygienic clean,
NORCROSS, Ga. (PRWEB) October 26, 2017
Earlier this year, the self-described Facility Management Geeks at infraspeak.com asked: "Does your hotel have a flawless pool maintenance plan in place?"
If you work in Hospitality or a similar industry, that's a question worth asking year 'round. Hotel Managers, Facility Managers, Operations Managers and on-site Maintenance or Tech Support teams know how important it is to keep large-scale, commercial swimming pools functioning properly at all times. That's because doing so helps:

Lower pool operating costs.
Reduce maintenance costs overall.
Ensure a safe, worry-free user experience.
Free up management to focus on other issues.
Better utilize team member skills and expertise.
It also increases customer satisfaction—for a better stay, more positive reviews and repeat business.
Maytronics U.S. is doing its part, rolling out the C7 robotic pool cleaner line in time to address the unique challenges faced by hotels, spas, resorts, fitness centers and other commercial facilities during the busy Winter and Spring Break seasons. The C7 makes preparing for guest arrivals hassle-free, in these and other ways:

Reliable automated cleaning backed by a Full, 2-Year Warranty.
Push-button programming and remote control navigation.
Top-loading filter configuration for easy maintenance.
Active brush scrubbing for pools up to 105-ft. long.
Flawless water filtration and pool floor coverage.
The U.S. Travel Association notes that, since 2009, Americans have ramped up their travel-related spending to nearly $1 Trillion annually. That money is sometimes spent in sectors which have either considered trimming or reduced staff sizes to recoup operating costs (i.e., Resorts, Recreation). Yet, there's a better solution.
Maytronics' C7 pool cleaning robots deliver an unmatched level of hygienic clean, while ensuring guest health and safety. In the process, they help pool owners and operators—notably, those managing large properties or facilities with an emphasis on hospitality—retain team members, when their staffing needs are highest.
"These easy-to-use and easy-to-maintain robotic pool cleaners free up entire teams," says Steve Skura for Maytronics U.S., "so they can focus on guest comfort and safety. The C7 offers complete floor coverage for pools of various shapes and sizes. It's an affordable, highly-effective solution for hotels, resorts, spas, country clubs and fitness centers."
"If you want crystal clear results with minimal downtime or user intervention, the C7 delivers!"
Maytronics automatic pool cleaning robots are VGB-compliant and rated "Best in Class." Click HERE to see the C Series in action. Then contact a Maytronics Elite Dealer for an on-site demonstration. Your guests will thank you!