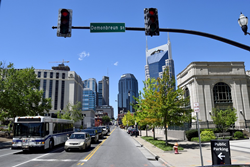 "Think of the positive impact on the economy. There's not one great city in the world that doesn't have a great transit system."
(PRWEB) November 08, 2017
Nashville Mayor Megan Berry proposed her plan, upon approval, to implement a new $5.2 billion mass transit system that aims to improve the quality of life for all Nashvillians. "Let's Move Nashville", unveiled on October 17th, calls for a mostly sales tax-funded plan, gradually increasing the sales tax in the area to 10.25 percent by 2023. Voters will decide if they're willing to accept this plan and move forward with the proposal.
More: Mayor Barry unveils sweeping $5.2 billion transit proposal for Nashville with light rail, massive tunnel
Plans for the new public transportation system include improved and increased bus services, 26 miles of light rail, an underground tunnel in the downtown area, and new transit centers and sidewalks to service the newly accessible areas. With a project timeline of 15 years, improvements to the existing bus services would start in 2019, including the conversion to electric buses, which are eco-friendly and more efficiently operated.
Ron Garrison, accomplished public transportation expert, voiced his excitement for the upcoming changes and is looking forward to expanding this type of technology all over the country. Garrison said, "Think of the positive impact on the economy. There's not one great city in the world that doesn't have a great transit system." In August 2016, Garrison was featured on TEDx Talks, giving his vision for the future of public transportation for future generations. Garrison has improved mass transit systems with impressive results in Tallahassee FL, Memphis TN, Fairfax County VA, Prince George County MD and the St. Louis MO/IL region.
Ron Garrison – 27 Years of Transit Accomplishments
Voting for the project is scheduled to happen on May 1st, 2018. Metro officials said the mayor plans to implement a transit and affordability task force to further assess how to turn the revenue from the transit system into affordable housing options. The city currently struggles with congestion issues. This plan will provide reliable, easily accessible public transportation options that will benefit the growing