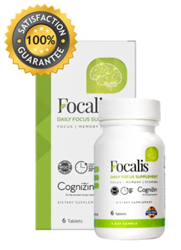 "The Next Level of Focus"
NEW YORK (PRWEB) October 25, 2017
Students, athletes, and business professionals looking to improve mental focus shouldn't have to deal with the crash that comes with energy drinks and supplements loaded with caffeine and sugar.
Focalis delivers next-level focus free of the common side effects of stimulants. The high quality ingredients – including Cognizin® Citicoline – help support overall performance and stamina. Each ingredient targets key areas to achieve peak mental productivity.*
"Focalis is an innovative, daily focus supplement that delivers unparalleled results," said Joe Villatico, Focalis founder.
While other companies pack hard-to-pronounce ingredients into their products, Focalis relies on three clinically proven nutrients to deliver better focus:

Cognizin® is a patented form of citicoline, a naturally occurring nutrient produced by the brain. Citicoline is critical for healthy brain function and is proven to support focus, as well as boost energy. Clinical studies show Cognizin® provides vital nutrients that help the brain stimulate electronic impulses, maintain healthy neurons and protect them from free radicals.*
Whole Green Coffee Powder (WGCP) provides a steady stream of caffeine to keep your focus on point and energy levels increased throughout the day*
Huperzine A is widely known for its memory recall benefits. In fact, this nutrient breaks down the brain chemical acetylcholine – a process that combats symptoms associated with Alzheimer's and dementia.*
Each serving of Focalis may:

Support creativity
Boost energy levels
Supports overall mood
Supports memory, alertness, and focus
For more information, visit https://getfocalis.com/.
About Focalis
Focalis Nutrition is a focus supplement designed to help students, athletes, and professionals with their overall performance. Formulated with clinically proven ingredients, Focalis partnered with Uniwell Laboratories to develop a stimulant-free formula to improve focus, memory, and stamina without the crash. For more information, visit https://getfocalis.com/ or their Instagram page @focalisbrand
About Cognizin
Cognizin® Citicoline, manufactured by Kyowa Hakko Bio Co., Ltd., is a clinically studied and patented form of Citicoline, a natural substance found in every cell of the body and especially vital to brain health.* Citicoline is a potent brain-health nutrient. A proprietary form of citicoline, Cognizin® has been clinically studied to support mental energy, focus, attention, and recall. Cognizin is manufactured through a patented fermentation process to yield high quality and high purity. Cognizin is also highly stable, GRAS, ultra-pure and allergen-free. For more information on Cognizin, visit Cognizin.com
About Kyowa Hakko USA
Kyowa Hakko USA is the North & South American office for Kyowa Hakko Bio Co. Ltd., an international health ingredients manufacturer and world leader in the development, manufacturing, and marketing of pharmaceuticals, nutraceuticals and food products. Kyowa is the maker of branded ingredients including Cognizin® Citicoline, Lumistor® L-Hydroxyproline, Pantesin® Pantethine, Setria® Glutathione, as well as Sustamine® L-Alanyl-L-Glutamine. For more information visit Kyowa-USA.com.
*These statements have not been evaluated by the Food and Drug Administration. This product is not intended to diagnose, treat, cure, or prevent any disease.