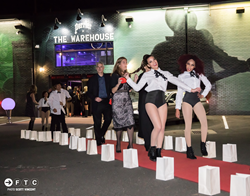 Fairfield, CT (PRWEB) October 25, 2017
Fairfield Theatre Company (FTC) hosts one of the most highly anticipated events of the year, the ENCORE Gala, from 6:30 to 11 p.m. Saturday, Nov. 11 in The Warehouse at FTC.
The 2017 Gala theme "Enriching our Community," celebrates 13 years of bringing people together through live music, art, film, theater and culture. FTC proudly recognizes Outdoor Sports Center as "Corporate Citizen of the Year" for their financial support and important film program contributions.
FTC ENCORE is one of the most celebrated events in Fairfield, offering guests an unparalleled night of fun, community, and as always, creative and artistic surprises. ENCORE guests will enjoy cocktails, delicious hors d'oeuvres, and a three-course dinner courtesy of OnTheMarc Catering. The celebrations continue after dinner as LA-based funk and soul band Orgone brings guests to StageOne for a high-energy concert.
ENCORE is FTC's largest and most essential fundraiser. Proceeds from this annual event enable the nonprofit to further enrich the community by bringing the very best in arts and entertainment to Fairfield County. Both live and silent auctions provide unique prizes and experiences. In addition, donations raise funds for FTC's new Education Center, which is part of the current expansion project of "The Loft."
"The Gala is our biggest night of the year with nearly 200 fans and supporters attending to support and celebrate Fairfield Theatre Company," said Gala Chair and FTC Board Member Lou Heumann. "The evening benefits our mission of bringing the best live music, art, film, culture to Fairfield and advancing educational and community programming."
"We are very grateful to our ENCORE guests, sponsors and auction contributors for their outpouring of support to help FTC raise much-needed funds," said FTC Producing Artistic Director John Reid. "These funds help us cover the balance of our operating expenses that ticket sales do not. It is truly amazing to see everyone come together to help make ENCORE happen and show their support for the future of FTC."
Tickets and information can be found at fairfieldtheatre.org/gala
About Fairfield Theatre Company:
Fairfield Theatre Company is a highly-acclaimed non-profit performing arts organization located in the heart of downtown Fairfield. FTC presents over 300 concerts and events each year featuring outstanding national talent at FTC's StageOne and at The Warehouse. FTC's venues are widely recognized as being the best places to see live performances in the region. FTC's mission is to connect and enrich the community through the transforming power of the arts. For more information, go to fairfieldtheatre.org.