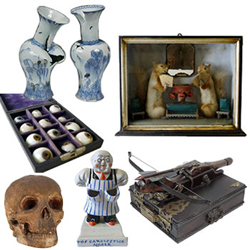 CLEVELAND (PRWEB) October 27, 2017
Kovels' antiques experts know firsthand that collectors are drawn to the items they collect for many reasons—usefulness, artistic value, historical or cultural significance, or nostalgia. Kovels' Antiques & Collectibles Price Guide 2018 contains items in more than 700 categories, including clocks, lamps, glassware, pottery, dolls, or figurines. But sometimes, collectors want the unusual, and they look for items that are whimsical, unique or odd. Kovels lists 6 "out of the ordinary" items that sold recently.
1. Taxidermists in the 19th century sometimes created imaginary scenes to display, like this Victorian diorama of two taxidermied squirrels at a table playing cards, 15 inches high by 18 inches wide, that sold for $4,012. Entertaining.
2. Two new "19th-century" porcelain vases, 23 inches high and decorated with cobalt inlay and decals, look crumpled and in bad shape—intentionally. They were made by Steven Y. Lee and captivated a collector who paid $14,300. Unique.
3. Never know when you might meet a hungry vampire and need a vampire killing kit. A kit from the early 1900s in a fitted 10- by 12-inch wood and leather case with brass hardware holds the required wooden arrows, a 1914 prayer book, crucifix, candle stands, pistol, powder horn, skull bottle, bone pocket knife, silver match holder and more. A wolf's head and crossbow fits on top. It sold for $5,000. Macabre.
4. A child would like this one—a toothbrush holder shaped like man wearing a blue-striped apron that says "candlestick maker." Brushes tuck in the two extending front pockets. It's 5 inches high and sold for $75. Whimsical.
5. Trouble with your eyesight? A fortunate bidder bought an optometrist's set of prosthetic glass eyes in a fitted velvet-lined case for $826. Weird.
6. A talking skull was bought too late for Halloween. The realistic plaster skull has a moving jaw that clicks out answers to questions, rapping once for "yes" and twice for "no." A bidder who must have been looking for answers paid $1,875 for the c.1900 6-inch high skull. Scary.
The Kovels like to know what antiques and collectibles charm, delight or intrigue collectors.
Photos are courtesy of Ruby Lane and Treadway Toomey, Wm. Jenack, Rich Penn, and Potter & Potter auction houses.
Terry Kovel is America's foremost authority on antiques and collectibles. She is the well-known columnist and author of more than 100 books on antiques and collecting. The all-new 50th anniversary edition of Kovels' Antiques & Collectibles Price Guide is currently available at Kovelsonlinestore.com and local bookstores. Terry Kovel will discuss antiques and collectibles topics with accredited media. Photographs are available. Contact pr(at)kovels(dot)com.
About Kovels.com
Kovels.com, created by Terry Kovel and her daughter, Kim Kovel, provides collectors and researchers with up-to-date and accurate information on antiques and collectibles. The company was founded in 1953 by Terry Kovel and her late husband, Ralph. Since then, the Kovels have written some of America's most popular books and articles about antiques, including the best-selling annual Kovels' Antiques & Collectibles Price Guide, now available in its 50th edition. The website, Kovels.com, online since 1998, offers more than a million free prices, and includes a free weekly email, "Kovels Komments." It gives readers a bird's-eye view of the market through the latest news, auction reports, a Marks Dictionary, readers' questions and answers and much more.
Contact Information:
Liz Lillis
216.752.2252
Pr(at)kovels(dot)com