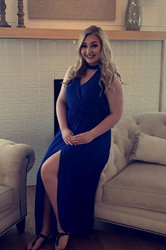 As a professional skin care brand sold through estheticians, we believe it is vital that we support those who have desire to enter this exciting industry.
FARGO, N.D. (PRWEB) October 26, 2017
Lexli International, the premier line of aloe vera skin care, is proud to announce the first-ever recipient of a Lexli Esthetics Scholarship. Kylee Smith of Fargo, ND, a student in the esthetics program at Josef's School of Hair Design, has been selected to receive a $1,000 award, along with a Lexli Professional Introduction Kit, valued at more than $500, which provides products and materials to help Kylee build her business when she becomes a licensed esthetician later this year.
"When I was announced as the winner of the Lexli Esthetics Scholarship, I couldn't believe it," said Kylee Smith. "Now that my schooling is paid for, thanks to Lexli, and I'm almost done with hours, my focus is on searching for an opportunity with a salon/spa that best fits me and my personality. Thank you to Lexli for this amazing opportunity and for choosing me as their first scholarship recipient!"
Lexli introduced the Lexli Esthetics Scholarship program earlier this year as a way to support those currently training for a career in the esthetics industry. Through the program, Lexli awards two $1,000 scholarships annually – one in the spring and another in the fall – to individuals who demonstrate a passion for skin care and the talent to be a leader in the field. To apply, aspiring estheticians who are already enrolled in an accredited program must complete a scholarship application and submit a personal video that highlights their philosophy toward skin care and/or their vision for the future of the esthetics industry. All entries are judged by a panel that includes veteran licensed estheticians, physicians and members of the Lexli executive team.
"The esthetics industry is expected to continue experiencing impressive growth well into the foreseeable future, as individuals increasingly view the services of estheticians as essential to their health and wellbeing, versus an occasional luxury," said Dr. Ahmed Abdullah, founder and lead formulator of the Lexli line of skin care. "While there is no shortage of individuals with the passion to become an esthetician, unfortunately, the cost of training can sometimes be a roadblock. As a professional skin care brand sold through estheticians, we believe it is vital that we support those who have the desire to enter this exciting industry."
"Lexli has assisted in bringing Josef's esthetics program to the next level. In addition to receiving periodic training from Dr. Abdullah, our students also benefit from use of Lexli products within our training program," said Mikaela Balzum, admissions director at Josef's School of Hair Design in Fargo, ND. "Financial pressure is always a concern for students so we are delighted to see Lexli investing in the future of this industry."
Lexli is currently accepting applications for its spring scholarship award. Full scholarship details and the application form can be found at http://www.lexli.com/scholarship/.
About Lexli:
Founded in 1996 by Dr. Ahmed Abdullah, a board-certified plastic surgeon and noted aloe researcher, Lexli is the premier line of aloe vera skin care products. The company offers a full-range of advanced solutions for daily skin maintenance, specific skin concerns and the signs of aging, including AloeGlyC®, the advanced facial glycolic acid exfoliator; Lightening Lift, a unique aloe vera face mask; and the Acne Kit, one of the most potent and comprehensive acne treatments available over-the-counter.
Lexli products are sold by licensed skin care professionals throughout the United States and in select countries worldwide, as well as online at the Lexli website (http://www.lexli.com).
For more information visit lexli.com, Facebook (LexliSkinCare) or Twitter (@LexliSkinCare).