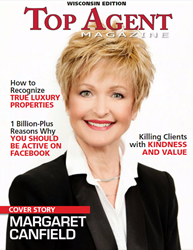 The devastation in Texas is far from over and as the area recovers and rebuilds, these donations from communities near and far are critically important.
LAKE GENEVA, Wis. (PRWEB) October 26, 2017
Hurricane Harvey was a devastating force in Texas, dumping over 50 inches of rain, which is a record from a tropical cyclone in the continental United States, and causing catastrophic flooding. In order to assist victims of Hurricane Harvey, broker Margaret Canfield with @properties of Chicago and Lake Geneva, WI, added to the company fundraising campaign that netted over $62,000.
"Thank you to everyone within @properties for your contributions to the fundraising campaign for Hurricane Harvey relief efforts," said Canfield. "The devastation in Texas is far from over and as the area recovers and rebuilds, these donations from communities near and far are critically important. Because of your generosity, we were able to send $62,000 to the JJ Watt Foundation."
The JJ Watt Foundation, an organization founded by JJ Watt of the Houston Texans, is committed to assisting Houston and its surrounding communities. All monetary donations currently being made to the JJ Watt Foundation are being allocated to the Houston Flood Relief Fund.
"After doing a lot of research, and receiving some great feedback from many people, this charity appeared to do a great job of getting the money donated to the people in need in Houston, as opposed to having a lot go to overhead, etc.," noted Canfield. "We are humbled and grateful for everyone's generosity and spirit for our friends in Houston."
For those who want to help with hurricane relief efforts, there are many avenues. People can donate supplies or money to United for Puerto Rico; volunteer or contribute to the American Red Cross, Catholic Charities, or the Salvation Army, which are accepting relief funds for areas affected by hurricanes Harvey, Irma and Maria; give to One America Appeal, to include relief efforts in Puerto Rico and the U.S. Virgin Islands; donate to Save the Children's fund, which focuses on the needs of families and their children; donate to GlobalGiving, a crowdfunding site that connects donors to nonprofits all over the world; or donate to Americares, which says that for every $10 donated, it can provide $200 in aid.
In addition to raising funds for hurricane relief, Canfield is a supporter of the Open Arms Free Clinic, which strives to better understand and serve the health and wellness needs of the uninsured, low income and underserved residents of Walworth County; the Geneva Lake Conservancy, a 501(c)(3) not-for-profit organization dedicated to the preservation of environmentally sensitive lands, open space and the unique character and quality of life of Walworth County; and the Lake Geneva Fresh Air Association, whose purpose is to provide underprivileged children and teens with a respite from often unhealthy, difficult and unsafe home circumstances.
About Margaret Canfield, @properties
Margaret Canfield specializes in condominiums, townhomes, and single family homes on several lakes and/or associations that lend themselves to many styles of lake living. She is one of the top 15 out of 522 agents in Walworth County. For more information, please call (262) 949-9272, or visit http://www.margaretcanfield.com. The office is located at 880 W. Main Street, Lake Geneva, WI 53147.
About the NALA™
The NALA offers small and medium-sized businesses effective ways to reach customers through new media. As a single-agency source, the NALA helps businesses flourish in their local community. The NALA's mission is to promote a business' relevant and newsworthy events and achievements, both online and through traditional media. The information and content in this article are not in conjunction with the views of the NALA. For media inquiries, please call 805.650.6121, ext. 361.