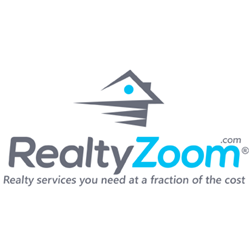 CARLSBAD, Calif. (PRWEB) October 25, 2017
RealtyZoom the forward-thinking, action-oriented real estate firm that takes just 1 percent commission for a full suite of Realtor services, has launched a new website.
"With nine years in the industry, it was time to refresh our site so we could offer even more online tools and services to our growing client base," confirmed Ryan Call, Founder. "The updated website has a very fun explainer video on the front page that quickly summarizes what we do. From the main page, clients can also click the "List Now" button to get their listing on the MLS within 24 hours, or book a free consultation. Another link takes them directly to our handy 15-step selling guide, that anyone can access, whether they are a client of RealtyZoom or not."
Among RealtyZoom's features are flexible listing terms, anytime cancellations, a free yard sign and no payments due until the deal is closed.
"We enjoy helping hardworking homeowners sell their homes. It's a long, complicated and legal process, but we make it easy and even fun. You can enjoy the process, and keep more of your equity, when you use RealtyZoom," Call concludes.
To see the new website and explore what RealtyZoom has to offer, visit http://www.realtyzoom.com today.
About RealtyZoom Inc.
RealtyZoom is made up of a team of tech-savvy innovators that have real estate experience. They combine this progressive mix of skills to fix the broken traditional real estate model, and enable sellers to have a much better experience while keeping more of their equity in their own pockets. RealtyZoom has a 15-step selling guide that shows each client how to quickly and easily navigate the process, and when you use the "List Now" feature on the site, your home can be on the MLS within 24 hours.
Contact Details:
Ryan Call
Founder
Carlsbad, CA 92008
Phone: (888)368-9666
Source: RealtyZoom Inc.
###