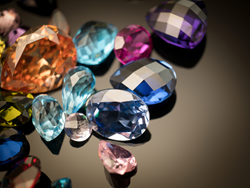 I know color stones inside and out! For more than 40 years I've been working with fine jewelers throughout the world providing them with beautiful, unique and extraordinary gems. There is a broad spectrum of options to complement Pantone's evolving palettes season after season.
NEW YORK (PRWEB) October 26, 2017
If there's one thing that the Spring-Summer 2018 fashion color palette promoted by Pantone reveals, it's that we humans crave more color in our lives.
For the first time in 46 seasons and over 23 years since the Pantone Color Institute began calling out top fashion colors favored on the runways, the palette for Spring-Summer indentifies 12 instead 10 leading hues, and also includes four additional classic colors hailed to transcend seasons and anchor any wardrobe.
Experts at Pantone see that fashion and the people who interact with it no longer want to be restricted to following traditional color guidelines, a trend that has been evolving over many seasons. Designers are recognizing the need to show more color in their fashion collections to satisfy consumer demand for more variety, cites Leatrice Eiseman, executive director of the Pantone Color Institute.
"This is an exciting time for lapidary artists, jewelry manufacturers, and designers who work with gemstones to be a part of such a rich and robust conversation around color," says Joseph Menzie, president of Joseph Menzie Inc. https://www.menzie.com, a leading New York City-based gemstone dealer. "I know color stones inside and out! For more than 40 years I've been working with fine jewelers throughout the world providing them with beautiful, unique and extraordinary gems. There is a broad spectrum of options to complement Pantone's evolving palettes season after season."
Color Gem Connection
The expanded palette for Spring 2018 embraces the lack of gender and seasonal borders we're seeing within the fashion industry. "It showcases an appreciation for the complexity and distinctiveness of color and expression of it, which is something that evolves and can be played with year round," describes Eiseman, who notes that the four classic shades were added so as not to limit the number of colors Pantone deemed worthy of special attention in the seasonal palette.
Described as a kaleidoscopic bounty of uplifting shades and tones, the top 12 colors for Spring are bright yellow Meadowlark, orangey red Cherry Tomato, clear skies Little Boy Blue, earthy red Chili Oil, Pink Lavender, dusty blush Blooming Dahlia, cool green Arcadia, Ultra Violet, rich chocolate Emperador, Almost Mauve, fuchsia Spring Crocus, and Lime Punch. While the additional four classic shades—navy Sailor Blue, dove gray Harbor Mist, Warm Sand, and Coconut Milk—are hailed core basics and seasonal essentials that work well on their own or as landscape for more complex color combinations.
There are many gem families that come in a variety of colors and shades within that are sure to complement Pantone's palette no matter the season, including sapphire, tourmaline, garnet, topaz, beryl, spinel and quartz.
"Fashion's growing love affair with color is great for gemstones and those who design with them," hails Amanda Gizzi, director of public relations for Jewelers of America. "It's on the mind of consumers and referencing the Pantone colors, helps reinforce what we're seeing in other categories." Among the favorite gems spied at JA's Annual Fine Jewelry Preview for 2018 were opal, emerald, peridot, aquamarine, sapphire, lapis, ruby, carnelian, coral, pink sapphire and tourmaline, mauve moonstone, morganite, rhodochrosite, and amethyst.
It's not surprising that Swarovski found in its latest trends forecasting research GemVisions a renewed preoccupation with the origin of gemstones. Identifying an overarching theme for 2018 that it calls "Wunderkammer", the fashion-forward gem and crystal design elements brand sees a collective sense of wonder, embodying an irresistible fascination with the extraordinary: the phenomena of the universe, the marvels of the earth, and the miracles of technology.
"For the jewelry world, this has meant a renewed preoccupation with the origin of gemstones, which are created deep within the earth from elements once forged in the vast cauldrons of the stars," describes Cheryl Jester, trend and communications manager for Swarovski Americas Gemstones Business. "It also reflects today's preoccupation with connoisseurship and our insatiable quest for rarities. This desire drives today's gemstone market just as surely as it drove the 16th century's race to acquire natural, scientific and artistic specimens."
Jester notes that in our 24/7-connected lifestyle with all our digital trappings there is a new appreciation for genuine relationships and connections, and for the gems and jewels with which to honor and celebrate them.
Michael O'Connor, jewelry stylist to the stars and president of Style and Substance, cites that this greater use of color and the interesting color combinations rocking the fashion world are inspired by a more global, cultural influence. "This broader variety of color is the perfect base for jewelry designers to use the wide palette of color gemstones available. Designers who use them in combinations inspired by other cultures—particularly Asia, India and the Middle East—are on-trend with today's fashion."
Marketing Color
Trend forecasting is an incredibly valuable tool for designers across all categories, providing the opportunity to stay relevant, fresh, and engage in discussions about color.
"The challenge is to use color trends wisely," advises branding consultant Andrea Hansen for LUXE Intelligence. "No designer should completely alter their DNA to incorporate a color that doesn't make sense for their brand. In the specific case of Pantone colors for a season, the knee-jerk reaction is to look for gemstones that fit the palette. But by incorporating the Pantone colors in photo shoots, web banners, wardrobe, Instagram graphics, email newsletters, one can actively play the game without a long-term commitment."
The Pantone color palette can help manufacturers, designers and jewelers romance gemstones, advocates Menzie. "The color names and descriptions exude a luxury feeling, an exotic sentiment that can add poetic sensation to any brand's jewelry. Designers can find inspiration and complements to their work within those narratives."
Jewelers who reference Pantone and incorporate the Pantone story in their marketing undoubtedly elevate the conversation of color.
By Deborah Yonick, guest columnist