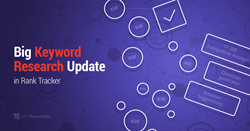 (PRWEB) October 25, 2017
Link-Assistant.Com, the all-inclusive SEO software platform, has released today the update for its Keyword Research in Rank Tracker. A proper keyword research, a bulky task for any webmaster, gets much easier with the new features. Users now have more keyword suggestions with the three new tools that can pull words and phrases from the Amazon database, carry out a TF-IDF (a formula that defines the importance of a keyword or a phrase) competitor analysis, and generate keyword-based questions for further content building. The update also delivers a much more sophisticated algorithm for semantic keyword grouping, by either broad or specific topics, and extensive options to manage keyword groups — one by one, or in bulk. The update is available to all Rank Tracker users (this includes Free, Professional, and Enterprise editions).
Why is it necessary to apply new methods for keyword research?
"Search engines now do not feed on keywords, but rather on the semantic intent behind them. It means that we have to target the whole semantic groups instead of individual terms. The more keyword research methods you make use of, the more chances you have to rank higher. Explore new ways for keyword mining, like questions, for example. Considering the rise of semantic web and voice search, it is super important. When you can apply your best guess for the exact query your users have in mind, you can give the winning answer," - says Aleh Barysevich, Founder and CMO, SEO PowerSuite.
New features of Rank Tracker:
3 New Keyword Research Tools

Amazon suggestions from the ample Amazon database;
Question generator on the basis of the most popular questions that people look for in search engines;
TF-IDF Analysis of the most meaningful keywords of the competitors.
Better Semantic Grouping
A quicker & more accurate algorithm for segmenting a keyword list to thematic keyword groups;
Arrangement of keywords either in large groups according to broad topics or in small and closely related ones.
Improved Keyword Management

New possibility to merge, regroup, and move keyword groups in bulk and assign selected keyword groups to the optimized pages;
Option to choose a page to assign to a specific keyword that is already ranking for that keyword.
Landing page search in Keyword Map by using a quick filter to find the page from the huge list of website URLs.
More information about new Keyword Research features in Rank Tracker is available at the SEO PowerSuite blog.
About Link-Assistant.Com and SEO PowerSuite
Since 2004, Link-Assistant.Com has been developing advanced tools around SEO trends and the real needs of users. Now the company's product range consists of SEO PowerSuite (all-in-one internet marketing software provider for full cycle SEO campaigns) and the recently launched Awario (an online social media monitoring tool). To stay on top of Link-Assistant.Com news, sign up to the blog updates and follow the company in social media: Facebook fb.me/LinkAssistant and Twitter @LinkAssistant.