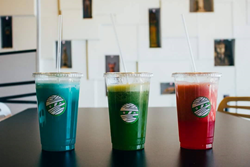 People have gotten used to the traditional Mediterranean concepts that is out there, and like every other industry in the world it's time for a disruptive new idea that is not traditional.
OKLAHOMA CITY (PRWEB) October 25, 2017
Yummy Mummy, the innovative new restaurant concept that is reinventing ancient Egyptian Mediterranean recipes with a modern twist, is live on global crowdfunding platform Kickstarter and raising funds to open up a second location in the heat of downtown Oklahoma City.
The founding story is a classic American tale of bootstrapping entrepreneurship. Founder Mohamed Hussain was inspired by the hit television show Stark Tank and started dreaming of his own ways to creative and financial independence and success. While looking around for various ideas he eventually discovered the way forward was lying right under his nose- his wife's brilliant cooking and knack for reinterpreting classic recipes with a personal spin.
"I got introduced to the show 'Shark Tank' and it literally changed my life and my mentality completely," says founder Mohamed Hussain. "I started by enrolling in an MBA program and looking for ways to invest my time wisely. I learned about the stock market and real estates. After years of studying, learning and applying different investment strategies of my own, some that worked and some that didn't, it was always clear to me that my wife had an amazing talent. She knows COOKING, she had the talent of taking any recipe, old or new, adding her touch to it and completely transforming it into something unique and different."
Yummy Mummy is a top rated, successful Mediterranean restaurant already operating in a small strip mall out of OKC. The company serves up an array of delicious dishes from their signature chicken, beef, and veggie wraps which the company initially launched with, to a full fledged menu ranging from soups, salads, fatta and more.
The restaurant is already a hit with locals and the owners were constantly being asked to expand and open up a more convenient and accessible location with greater visibility and the ability to attract greater crowds. Yummy Mummy has plans to open up their second location in a historic building of downtown Oklahoma City for the thousands of business professionals looking for a quick, affordable and tasty bite on their lunch breaks.
Currently, the location has been secured and the lease has been signed. If all goes to plan, Yummy Mummy will open up their second location in downtown Oklahoma City this December. Backers can currently pledge to the Kickstarter campaign and earn rewards ranging from free appetizers up to a catered private event for 40 and valuable gifts ranging from a simple key chain with the company's logo up to T-shirts and GOLDEN EGYPTIAN COINS.
"I have lived in many countries around the world while sampling various Mediterranean concepts, but they weren't really different because if you look closely almost all of their offerings are 85% IDENTICAL and 15% slightly different, with no creativity when it comes to the branding and experience," adds Hussain. "People have gotten used to the traditional Mediterranean concepts that is out there, and like every other industry in the world it's time for a disruptive new idea that is not traditional."
The Yummy Mummy campaign is currently live and available to support on Kickstarter: http://kck.st/2yMh1Xn
About Yummy Mummy
Yummy Mummy, is an Egyptian Mediterranean concept that is disruptive to the food industry and will change your outside dinning experience as you know it. Founded and Launched in Spring of 2016 were we opened our first location and ever since we opened we've become the number 1 top rated restaurant in the entire metro area of Oklahoma. Serving ancient recipes that has been around for more than 5000 years but after adding a modern twist that appeals to our present time.
For more information on Yummy Mummy please visit http://www.yummymummyok.com