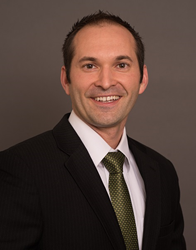 HICKORY, N.C. (PRWEB) October 26, 2017
Dr. Dale Spencer, dentist in Hickory, NC, and his team at Hickory Dental Care, proudly welcomes Dr. Nick Wentworth to their state-of-the-art practice. Hickory Dental Care offers dental implants, sedation solutions, and cosmetic dentistry, including dental crowns, veneers, teeth whitening, and tooth extractions.
Restorative and cosmetic dentistry involves both the functional and aesthetic aspects of a smile. Patients desiring to fix minor cosmetic issues with their teeth and gums can receive teeth whitening, dental veneers, dental implants, and dental crowns. Patients with underlying health concerns, such as gum disease, may need to undergo more comprehensive functional treatment to restore their oral health before receiving cosmetic services. The option for laser dentistry services, including crown lengthening and gum disease treatment, allow patients to receive quality care without undergoing traditional surgery with scalpels, incisions, and sutures.
Dr. Wentworth is a graduate of the University of New England and specializes in restorative and cosmetic dentistry, as well as tooth extractions. Two of his greatest passions are working with his hands and helping others. Dr. Wentworth is dedicated to restoring attractive, healthy smiles that give his patients a boost in self-confidence. He is excited to be joining the talented team at Hickory Dental Care and looks forward to offering the same high-quality care patients have received in the past. During his free time, Dr. Wentworth enjoys slalom and barefoot water skiing; the beautiful lakes in the Hickory area were one of the reasons why he and his family, his wife, Kendra, and their two daughters, chose to make this their new home. An avid traveler, he has also visited all 50 U.S. states and more than 10 foreign countries. Dr. Wentworth is accepting new patients and welcomes those in the community to visit Hickory Dental Care.
Patients looking for a new dentist in Hickory, NC, are encouraged to contact Hickory Dental Care for all their implant, sedation, and cosmetic dentistry needs. New patient appointments can be scheduled by calling 828-270-7853 or by visiting http://www.hickorydental.com.
About the Practice
Hickory Dental Care offers modern, comprehensive dental care to patients in Hickory, NC, including dental implants, sedation treatment and cosmetic dentistry. Dr. Dale Spencer is a graduate of the University of North Carolina at Chapel Hill, a Fellow of the American Academy of Implant Dentistry and a Diplomate of the American Board of Oral Implantology/Implant Dentistry. Dr. Spencer is experienced in implant dentistry and is certified to administer IV sedation. Dr. Nick Wentworth graduated from the University of New England. He and Dr. Spencer are trained in the latest dental technology to offer comprehensive, comfortable, and predicable treatments for patients. The Hickory Dental Care team is dedicated to providing exceptional care for their patients and strive to create an office environment that is welcoming, compassionate, and of the highest quality. To learn more about Drs. Spencer and Wentworth and the services they offer, call 828-270-7853 or visit http://www.hickorydental.com to schedule a consultation.