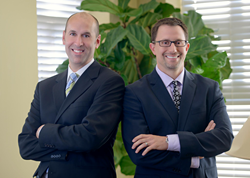 Cornelius, NC (PRWEB) October 26, 2017
Patients with missing teeth are now welcome to receive a consultation for dental implants from Drs. Steven White and Brad Haines, without a referral. Implant-supported dentures have a variety of benefits not offered by standard dentures in Cornelius, NC, including greater stability, long-term reliability and improved bone health.
Drs. White and Haines are proud to now welcome new patients for implant-supported dentures in Cornelius, NC. Unlike traditional dentures, this solution can be secured permanently to the jaw with dental implants. Patients who want their implant-supported dentures to be removable can opt for ball-retained dentures. Whether patients choose permanent or removable options, they will enjoy exceptional stability and will not need to worry about their teeth coming loose or falling out of the mouth, which is a common complaint with standard dentures. Additional benefits of implant-supported dentures include long-term stability and increased bone health, since the implants serve to stimulate the bone in the jaw and prevent degradation of the bone tissue.
Each dental implant is made of three pieces: a strong post that is placed permanently in the jaw, a natural-looking dental crown and an abutment that connects the two. With implant-supported dentures, a full denture appliance, instead of individual crowns, is attached to the abutments. The result is a natural-looking smile and full dental functionality. Drs. White and Haines offer in-house custom-made dentures to improve patient satisfaction and create a smile that matches each patient's facial features. They also use 3D Cone Beam CT technology to aid in guided implant placement. Using computer-guided technology improves accuracy and patient satisfaction.
Patients with missing teeth or ill-fitting traditional dentures in Cornelius, NC, are encouraged to experience the convenience and long-term reliability of dental implants. A consultation for implant-supported dentures can be arranged by calling White and Haines Advanced Dentistry at 704-896-9535 or by visiting http://www.drswhiteandhaines.com.
About the Practice
White and Haines Advanced Dentistry is a general dental practice offering personalized dental care to patients in Cornelius, NC. Dr. Steven White offers more than 20 years of experience in general and cosmetic dentistry. He has served as a mentor at the Nash Institute for Dental Learning as well as an instructor with the Advanced Aesthetics Program. Dr. Brad Haines was named a Top 40 Dentist Under 40 in Incisal Edge Magazine and brings more than a decade of experience in general and cosmetic dentistry. Drs. White and Haines strive to understand each patient's unique set of goals to help them reach a healthy smile and they are members of the American Dental Association, Dental Organization for Conscious Sedation and Charlotte Dental Society, among many others. To learn more about Drs. White or Haines or the services they offer at their practice, please visit their website at http://www.drswhiteandhaines.com or call 704-896-9535 to schedule an appointment.