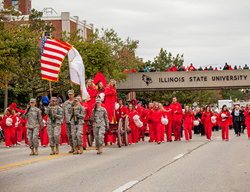 My family and I always dreamed we'd be able to give back to the youth of this state
BLOOMINGTON, Ill. (PRWEB) October 26, 2017
This month, local roofers and siding contractors Aloha Construction, Inc. proudly announce they are now feature sponsors of Illinois State University athletics! Sponsoring the men's division 1 football, basketball, and volleyball teams as well as the women's division 1 teams of the same sports, this sponsorship is in-line with the company's overarching goals. These expert roofing contractors also sponsor the USHL Central Illinois Flying Aces and the Normal Cornbelters baseball team in support of their Bloomington Office as well as the Kane County Cougars minor league baseball team in support of their Lake Zurich headquarters. Confidently serving all of Illinois, Aloha Construction, Inc. continues to fulfill their promise of being a quality full service roofing, siding, and general remodeling network that does more for each of the local communities they work within by pledging long term support to the local Bloomington Illinois State University athletic program.
David A. Farbaky, President/CEO of Aloha Construction, Inc. & Aloha Restoration, Co., says "Becoming expert roofers & providing quality siding repair was never the end goal. My family and I always dreamed we'd be able to give back to the youth of this state [Illinois]. Providing shopping sprees to children and taking the Boy's and Girl's club to hockey games help, but providing resources to local student athletes at such a prestigious school as ISU is long-term and impactful."
The company has always looked to help the youth says Farbaky: "As we grow, it's important to not forget where we came from. Helping a student athlete with the equipment they need to see the field can change someone's life. Sponsoring Illinois State University and learning the needs of the program put a lot of things in perspective for us. All I can say is: We are simply ecstatic to be on board for this athletic & academic season!"
For those unfamiliar with the school, Illinois State University Illinois State University's campus is in the twin-city community of Bloomington-Normal near the geographic center of the state, 137 miles southwest of Chicago and 164 miles northeast of St. Louis with 21,039 active students enrolled. Just 10 minutes away from Aloha Construction, Inc's Bloomington office which is located at 7 Westport Ct A, Bloomington, IL 61704. Offering free in-home assessments, Farbaky insists anyone stop in and schedule a property inspection.
For more information on Aloha Construction Inc.'s involvement with Illinois State University, stay tuned to Aloha Construction Inc.'s website throughout the academic year!
ABOUT ALOHA CONSTRUCTION, INC. & ALOHA RESTORATION, CO.
Aloha Construction, Inc. is a family-owned company of bonded and insured General Contractors providing services for all of Illinois and Southern Wisconsin. They proudly assist those in Lake, McHenry, Cook, and DuPage counties via their Lake Zurich location and in the McClean, Peoria, Washington, Tazewell, and Champaign Counties via their Bloomington office.
Specifically servicing the entire Lake County area, their newest division Aloha Restoration, Co. is a local home remodeling and clean up company that specializes in mold removal & remediation, water mitigation services, fire damage restoration, and home remodeling of all kinds.
To learn more about Aloha Construction, Inc. please visit their headquarters' website or call 847 540 7711 for a free expert inspection.
To learn more about Aloha Restoration, Co. please visit their new website or call 847 865 5664 for a free in-home assessment.
Aloha Construction, Inc. & Aloha Restoration, Co. are both fully licensed, bonded, and insured.