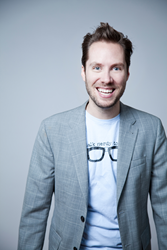 "With Jeremy's insights and successes in spotting trends in today's fast-changing world, attendees are sure to leave his dynamic keynote energized and ready to accelerate innovation in their organizations."
Burlington, ON (PRWEB) October 26, 2017
Today, Pink Elephant announced that Jeremy Gutsche, New York Times bestselling author, award-winning innovation expert, and the CEO of Trend Hunter, will be the opening keynote speaker at their 22nd Annual International IT Service Management Conference & Exhibition – "Pink18" – to be hosted at the JW Marriott Orlando, Grande Lakes.
"We're thrilled to have Jeremy Gutsche help open Pink18 – our biggest event of the year," said Fatima Cabral, CEO, Pink Elephant. "With Jeremy's insights and successes in spotting trends in today's fast-changing world, attendees are sure to leave his dynamic keynote energized and ready to accelerate innovation in their organizations."
Pink18's theme is Adopt, Adapt & Apply. The event will provide strategic, tactical and operational views of many frameworks and proven business practices that enable success. The event will also include:

12 tracks with sessions that cover an array of the latest topics and case studies including: ITSM, ITIL®, Lean IT, Agile, DevOps, Organizational Change Management and Business Relationship Management
IT Excellence Award Presentations: Project Of The Year, Practitioner Of The Year, Innovation Of The Year, IT Leader Of The Year and Case Study Of The Year
17 pre- and post-Conference courses in ITSM, ITIL, Lean IT, Agile, DevOps, Organizational Change Management and Business Relationship Management
Gutsche is the founder of TrendHunter.com, the world's most popular trend website, attracting over two billion views from 150,000,000 total visitors. He has been described as "a new breed of trend spotter" by The Guardian, an "intellectual can of Red Bull" by Association Week, and "on the forefront of cool" by MTV. Today, over 500 brands, billionaires and CEOs rely on his unique expertise to find better ideas faster. He is routinely sourced by the media, from The Economist to CNN and Entertainment Tonight to The New York Times.
Pink18 attendees will have the chance to meet Gutsche, as well as keynote speakers Eric Boles and David Horsager, at book signings after their respective sessions.
Pink18's Last Early Bird offers - with savings of more than US$1,500 - end November 3, 2017. For more information, to register for Pink18 or to submit nominations for the IT Excellence Awards visit http://www.pinkelephant.com/pink18.
About Pink Elephant
We Lead The Way! A premier global training, consulting and conference service provider, Pink Elephant has an undisputed reputation for leading the way. We're proud of our pioneering and innovative spirit, which has enabled us to introduce and spearhead many revolutionary concepts and programs since our inception 40 years ago.
To learn more about Pink Elephant and our full portfolio of training, consulting and special events, visit http://www.pinkelephant.com