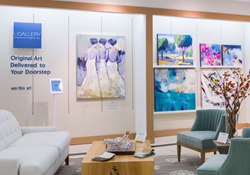 SAN FRANCISCO (PRWEB) November 01, 2017
WHAT: UGallery, the curated online art gallery that delivers original art to your doorstep, is transforming Water Tower Place on Saturday, Nov. 4, into a one-of-a-kind experience. Guests visiting the iconic Michigan Avenue shopping center will find themselves immersed in a massive art studio.
Chicagoland artists represented by UGallery will be working at their easels in a unified display of live painting upon entering the shopping center and leading up to IRL: In Real Life on the third floor. The event – a collaboration between UGallery, retail pop-up consultant the Lion'esque Group and GGP – is an effort to bring together artists and consumers under one roof at Chicago's most renowned building on Michigan Avenue.
"There is a mystical element of what happens in an artist studio to create a painting," said UGallery co-founder and Gallery Director, Alex Farkas. "This is a unique opportunity to better connect people with the art-making process in a welcoming and vibrant space. Our whole goal is to introduce more people to the joys of original art."
This event, along with UGallery's participation in the IRL retail showroom, furthers the company's mission of opening up access to original art. Earlier this year, UGallery announced a partnership with Crate and Barrel to be the home furnishing retailer's exclusive original art provider.
In addition to introducing Chicagoans to UGallery artists, Saturday's "artist takeover" exhibits the cultural significance of the shopping center in an era when media is questioning the future of the mall. "Consumers still value immersive experiences and want to be part of something that is entertaining and educational at the same time" said Melissa Gonzalez, CEO of The Lion'esque Group. "Customers can click to buy anywhere, but there are some things that can never be replicated with solely an online presence."
"Water Tower Place is an important meeting point and community space in Chicago," said Melinda Holland, GGP's senior vice president of business development. "This event furthers our goal of creating an environment beyond simple consumer transactions by allowing shoppers to interact with art pieces without the intimidation that comes from being in an art space. We are creating places that bring communities, creativity and culture together, all the more important in our digital age."
WHEN: Saturday, Nov. 4, 12-3p.m.
WHERE: Water Tower Place, Chicago, 835 N. Michigan Avenue, Chicago, IL 60611
ABOUT UGALLERY
UGallery is a curated online art gallery that delivers original art to your doorstep. Founded in 2006, UGallery passionately represents 500 top emerging artists from all around the world. With free shipping and free returns, UGallery makes it easier than ever to experience the joys of owning original art. Visit us at UGallery.com.
ABOUT THE LION'ESQUE GROUP
The Lionesque Group are retail strategists and pop-up architects™ who have produced over 100 pop-up store experiences in New York City, Chicago, Austin, Los Angeles, Puerto Rico and the Hamptons. The Lion'esque Group was founded in 2009 by retail futurist Melissa Gonzalez, who is also a co-founder of The MARKET, Chief Pop-Up Retail Architect of Loudoun Virginia's Smart City development and author of The Pop-Up Paradigm: How brands build human connections in a digital age.
ABOUT GGP INC.
GGP is an S&P 500 company focused exclusively on owning, managing, leasing and redeveloping high-quality retail properties throughout the United States. GGP is headquartered in Chicago, Illinois, and publicly traded on the NYSE under the symbol GGP.