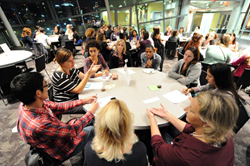 "Creative Conversations is an exchange where we can share ideas and gain the pulse of the local arts community. It's an opportunity to deepen the already robust dialogue around the arts as an economic driver."
San Diego, California (PRWEB) October 26, 2017
On November 2nd, arts leaders will discuss economic strengths and challenges at Creative Conversations: Creative Economies, an evening dedicated to empowering the San Diego arts community at Central Library in Downtown San Diego.
Following National Arts & Humanities Month, Creative Conversations has annually convened emerging leaders and industry veterans to discuss local arts, culture, and creativity, create dialogue about regional issues, and discuss approaches and solutions to some of the biggest obstacles faced by San Diego arts organizations and their communities. Building upon previous Creative Conversations, each year's program engages in timely topics. In 2014, Creative Conversations: Rise to the Occasion resulted in a White Paper that captured actionable recommendations from the region's most pressing challenges. The following year, workshops on intergenerational leadership merged distinct voices from different generations. Most recently, Creative Conversations acted as a platform for advocacy education.
"Creative Conversations is an exchange where we can share ideas and gain the pulse of the local arts community," says Sheena Ghanbari, Chair of Rising Arts Leaders San Diego. "It's an opportunity to deepen the already robust dialogue around the arts as an economic driver."
Through presentations and facilitated conversations led by Professor John M. Eger, Director of the Creative Economy Initiative at San Diego State University (SDSU), participants will discuss how any individual or organization can foster an innovative arts economy, support arts integration in schools and cultural districts, and empower arts leadership. Lynnette Tessitore, Cultural Arts Manager for the City of Chula Vista, will also share how she put some of these concepts to practice through a local case study that will embody how the arts are fundamental to the San Diego economy.
The program takes place Thursday, November 2, 6pm-8:30pm at San Diego's Central Library in Downtown. Creative Conversations is free to all professionals and attendees can RSVP online at: https://creativeconversations2017.eventbrite.com
Website: http://www.risingartsleadersofsandiego.org
Facebook: https://www.facebook.com/risingartssd
Twitter: https://twitter.com/risingartssd
ABOUT RISING ARTS LEADERS SAN DIEGO
Rising Arts Leaders San Diego (RALSD) is generously supported by the Hewlett Foundation. RALSD is an independent program of Young Audiences of San Diego. A volunteer operated organization, RALSD has been in operation for over 10 years with the mission of supporting and inspiring world-class arts leaders and making San Diego a home for a thriving, progressive arts community.