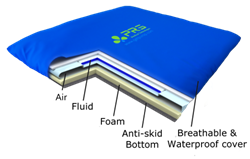 Most advanced seating technology in the world
FREMONT, Calif. (PRWEB) October 27, 2017
PRS Medical Technologies Inc has helped Human Touch, one of the leading reclining chair manufacturers, design the Perfect Chair® PC-LiVE to be stress relieving at any seating position. Human Touch has made high quality lifestyle products and massage chairs for more than 35 years. Their products are used by everyone from NBA players and chiropractors to people who suffer back pain and those who want relief from stress. They have won multiple ADEX Design Awards, a CES Innovations Award, and numerous other design and innovation awards.
Human Touch recently launched the $4,299 Perfect Chair® PC-LiVE with PURAP 3D Flotation® fluid cell technology from PRS Medical Technologies Inc. The patented PURAP 3D Flotation® technology uses fluid cells to distribute sitting pressures better than foam or gel to maximize comfort and help minimize painful pressure points. The PURAP 3D Flotation® technology has been clinically proven and used in thousands of wheelchair cushions and mattress systems for treating and preventing bedsores.
The PURAP 3D Flotation® technology is one of the most advanced seating technology in the world. Experience unparalleled comfort of the PURAP 3D Flotation®technology with these products (http://www.getpurap.com).