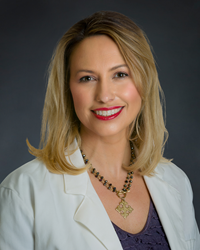 We believe that our medical providers offer some of the best service in the area, and we are confident that Dr. Carmichael will be a great addition to our team. - Dr. Roy Rochon
IRVING, Texas (PRWEB) October 25, 2017
Since 1953, the Medical and Surgical Clinic of Irving has helped the community achieve wellness and better living. Trained medical professionals deliver care across a wide number of specialties and sub-specialties. Now, the Irving clinic welcomes their latest medical provider, Dr. Kristen Carmichael. Dr. Carmichael joins the medical group as an OB/GYN and aims to help women achieve their ideal health.
Carmichael began her path towards becoming a doctor at Southern Methodist University, where she received her Bachelor of Science degree and graduated magna cum laude. She then attended the University of Texas Medical School-Houston and the Christus St. Joseph Hospital's OB/GYN residency program. After finishing the residency program, Dr. Carmichael began working as a doctor in Irving at Medical City Las Colinas.
She is board-certified in Obstetrics & Gynecology. Over the years, she has received a number of awards, including Best OB/GYN in Coppell-Las Colinas from Living Magazine Readers Choice Awards, Texas Physicians Practice Quality Improvement Award, and DFW Child's Mom Approved OB/GYN three years in a row.
"We are excited to have Dr. Carmichael join our team of medical providers," said Dr. Roy Rochon, president of the Medical & Surgical Clinic of Irving. "We believe that our medical providers offer some of the best service in the area, and we are confident that Dr. Carmichael will be a great addition to our team."
Dr. Carmichael starts seeing patients along with Myesha Johnson, APRN, WHNP-BC on October 25, 2017 at 6750 N. MacArthur Blvd, Ste 304, Irving, TX 75039 on the campus of Medical City Las Colinas.
About Medical & Surgical Clinic of Irving
Medical & Surgical Clinic of Irving is one of the largest physician-owned multi-specialty group practices in the metroplex, serving patients from Irving and surrounding communities since 1953. With its focus on high quality, disease prevention, technology advancements and the continuum of medical care, Medical & Surgical Clinic of Irving is well positioned to meet the challenges of healthcare in the decades to come. To learn more, call 972-247-8757 or visit MSCITX.com.