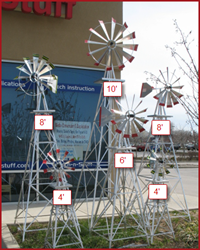 If every American purchase one USA made product per year the impact would be $9 billion. That creates an amazing amount of jobs for U.S. Citizens!
(PRWEB) November 05, 2017
America's Business to Consumers Inc. (USAB2C.com) provides U.S. manufacturers the venue to sell products. Given a choice between items made in America and similar items made overseas, consumers would rather buy the American product, according to a nationally representative survey by the Consumer Reports National Research Center.
Made in USA products run the gamut from Maple Landmark Toys, to Bully Tools / QPI Tools, Towels, Sunglasses, Kitchen Gear, Utility Lighting, Knives and Kids Furniture in time for holiday shopping needs.
This month, Wingard's Sales LLC. of Shipshewana, Indiana is being featured.
Wingard's is the only known producer of decorative, and pond aeration windmills in the USA today. Wingard's handcrafted aluminum frames provide years of virtually maintenance and paint free services in all areas of the country.
Wingard's began in Dave Wingard's basement as a hobby growing into a thriving enterprise. Originally producing bicycle trailers. Wingard used excess aluminum material to build the first decorative windmill model.
Dave worked with aluminum because of its beauty and weather resistance. To complement those features he added ball bearing and bronze bushing, stainless steel nuts and bolts, grease zerks, and superior craftsmanship. Through work ethic and ingenuity, the Windgards capitalized on their aluminum expertise by developing custom fabricated aluminum products.
The flagship windmill product line has grown to include eight sizes of ornamental windmills up to 30 feet high and two sizes of pond aerator windmills designed to add oxygen into the water retarding pond algae growth and ice-over.
As popularity of the Wingard's windmills grew, they began to develop other products to meet customer needs who offered their own ideas. They stuck with aluminum as their primary material for the same reasons of strength, low maintenance, and beauty in windmill production.
It made sense that a "mailbox" constructed of aluminum diamond-plate might provide the beauty and indestructibility that their customers would look for in a replacement mailbox. Wingard's next added construction of bicycle carts and wash basins to meet the needs of the local economy. Constructed with welded frames, and stainless steel connectors giving years of service life with little maintenance.
As word of their welding and fabrications expertise grew, they began to get requests from the local Recreational Vehicle Industry for fabricated aluminum parts for their needs to develop a better RV.
At $165.95, the Wingards 8 foot, aluminum decorative windmill offers consumers an ornamental, good-looking addition to any home garden. With decal tape on the fan blade tips and tail fin in 2 colors, the windmill base is 31" with a 24 inch wheel fan:
https://www.usab2c.com/product/8ft_windmill_made_in_usa
Why USAB2C?
Chief Operations Officer George P. Hanos recently relayed, "USAB2C is a modern day marketplace in the tradition of the ancient Greek 'Agora'; a virtual channel where consumers and American manufacturers come together to exchange ideas, concerns and conduct business. On USAB2C.com, customers can browse an online catalog and order products sourced from USAB2C Certified American through a safe and secure website. The effort to uncover American made products is ongoing."
USAB2C founders are intent on providing products made in the USA that minimize exposure to some inferior materials found at times in Asian imports, particularly seen in toys. The "Made in the USA News" section presents consumers with daily stories dealing with "PRODUCT RECALLS," new product introductions and related retailing / safety news.
Consumers can submit inquiries to USAB2C directly on the "CONTACT US" page: http://www.usab2c.com/page/contact.
About America's Business to Consumers Inc.
America's Business to Consumers Inc. is a private company experienced in retail marketing, consumer research and e-Commerce. Established in 2007, USAB2C seeks to be a single source of American manufactured products. A site where consumers can find a multitude of products manufactured in the U.S. at competitive prices. http://www.USAB2C.com as a website portal, facilitates interactive communication between consumers and those "in-demand" products to numerous American manufacturers.
The USAB2C team takes this occasion to sincerely hope that this Thanksgiving, Christmas and Hanukkah at home will prove a fitting climax for 2017 and that the coming year will bring more success and happiness than any which has gone before!
Contact:
Sophia C. King, Editor-in-Chief
America's Business to Consumers Incorporated
(775) 888-1378
Sophia(dot)Anayannis(at)USAB2C(dot)com
http://www.facebook.com/USAbusiness2consumers