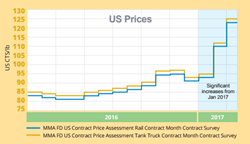 In the 25 years I've worked in the plastics industry, I have never seen prices increase like they have in the past year.
HOUSTON (PRWEB) October 27, 2017
Domestic supply of polycarbonate continues to be affected by global demand and local disaster. Hurricane Harvey made landfall on the Texas coastline August 25, 2017. The storm not only destroyed many residential areas, but also flooded chemical production and processing plants along the Texas coastline. Unfortunately, Texas chemical plants account for a large portion of the domestic polycarbonate resin supply. Several of these plants were flooded and had stops or delays in production. Along with production delays in the already low supply of polycarbonate resin, the storm also caused a logistical nightmare. Up to 30% of Houston, a major shipping hub for chemicals and resins, was covered by water after Harvey. Delays in production, higher shipping costs, and lower availability has caused prices to continue increasing.
The global nature of the polycarbonate market has also led to similar supply issues and price increases in other regions. A report from the Independent Chemical Information Service (ICIS) on polycarbonate stock in the United States notes strong demand and limited import availability. That same report highlighted a similar level of demand mirrored in the Asian market, where prices may soon become quite volatile due to uncertain component availability.
In the European market the increased demand for polycarbonate sheet seems to be having the greatest impact. ICIS's report describes the European market as "significantly tighter than it has been for some time," where extended delivery times have become the norm and "there are no longer expectations that material can be sourced easily, and prices clamped down." This combination of factors, ICIS contends, is certain to lead to short-to-medium term price increases. As if this isn't already damaging enough to the marketplace, those increases may be exaggerated by companies attempting to recover losses by increasing their margins.
Global demand, natural disasters, and mechanical failures leading to a force majeure by another domestic polycarbonate plant earlier this year have all caused prices to rise to historical levels. However, during these times of high prices, A&C Plastics is committed to giving customers the best prices on all plastics, despite the global supply dilemma.
Lead times also continue to remain an issue in the market. Several of the polycarbonate resin plants here in the U.S. are planning outages in the month of December to repair damage done throughout the year. Polycarbonate buyers can expect lead times to be pushed out even further into the next year. Luckily, we have filled our warehouses with more than enough polycarbonate in preparation for these planned outages.
"In the 25 years I've worked in the plastics industry, I have never seen prices increase like they have in the past year. As if price increases weren't bad enough, material shortages also plague the market. If it weren't for our extensive inventory stocked throughout our warehouses, we'd be in serious trouble. Despite cost going up and material getting more and more scarce, we do our best to ensure our customers are getting the best deals possible." – Keith Gaddis, VP of Special Projects