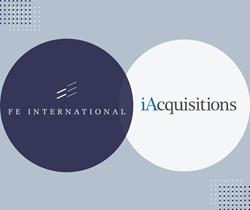 We are looking forward to a new era of dominance in the e-commerce space.
BOSTON (PRWEB) October 26, 2017
FE International, Inc., the global market leader in SaaS, e-commerce and content mergers and acquisitions (M&A) advisory, announces the successful acquisition of iAcquisitions, a leading privately held e-commerce mergers and acquisitions (M&A) advisory firm.
Chicago based iAcquisitions, led by industry veterans Lenny Farber and Sal DiGuardia, holds a network of over 7,000 qualified investors and boasts eight figures in annual business sales. iAcquisitions sought an investor privately and was an attractive acquisition target, with multiple offers from qualified suitors. Farber and DiGuardia will use the sale proceeds to fund a new business venture whilst allowing iAcquisitions to thrive under new ownership.
Farber stated, "After years of success with iAcquisitions it was important for us to find a buyer with the ability and track record to take the business to the next level. We're confident we've found the perfect acquirer with FE International and look forward to seeing the growth of the business in years to come."
FE International saw the acquisition as a way to bolster its market share in the e-commerce space and will use iAcquisitions as a launch pad for a new platform, to be released early next year, to facilitate the sale of e-commerce businesses. The acquisition also adds a Chicago location to FE International's global reach, with physical locations already in Boston, London and Ho Chi Minh City.
Ismael Wrixen, Group CEO of FE International commented, "Lenny and his partners have built a fantastic business in iAcquisitions. Having spent several years competing with them, we were most impressed by how successful their talented team has been in serving their loyal clients. We are now looking forward to a new era of dominance in the e-commerce space."
The acquisition of iAcquisitions is yet another landmark deal for FE International. The company plans to leverage its significant resources to create the best-in-class advisory service in the historically fragmented e-commerce industry.
About FE International, Inc.: FE International provides M&A advisory services for mid-market SaaS, e-commerce and content businesses. The company has become the pre-eminent adviser and valuation thought-leader in the industry. FE offers comprehensive exit planning services, as well as direct access to an established network of pre-qualified international investors to drive demand and maximize value for the clients it represents. For more info visit http://www.feinternational.com.