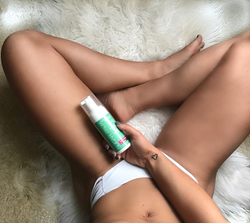 This is one beauty product thats a must have at all times! I am a college student on a budget and it is super affordable and gives me such beautiful color without drying out my skin-Jen
WELLINGTON, Fla. (PRWEB) October 27, 2017
Sugar Palm Beauty™ is a remarkable self-tanning line that delivers top-quality results yet at an affordable price. These self-tanners are now available through online retail channels.
Sunless product expert Melissa Weinberg is the creator of Sugar Palm Beauty™ but not new to the beauty industry. Thousands of spray tan technicians & beauty pros swear by her 5 star rated professional line of UV-free products & she is known as one of the top sunless tanning experts in her field. Melissa also trains, educates, and certifies sunless tanning professionals across the country. She incorporated her expert knowledge and experience of the sunless industry to create the Sugar Palm Beauty™ line of self-tanners.
"Many consumers are understandably budget conscious. I believe a great sunless tan should be affordable without the consumer having to sacrifice quality. They should be able to have both" says Weinberg. She adds, many other sunless brands (especially at this lower price point) are loaded with cheap ingredients, parabens, alcohol and other fillers for mass production unlike her Sugar Palm Beauty product line.
Weinberg wanted to do something unique and provide a product that many retail consumers have been asking for. "A great affordable self-tanner for the weekly home user that won't break the bank"
The Sugar Palm Beauty™ whipped tanning mousse is easy to apply & formulated with natural and organic based ingredients. They are also:

Paraben-free
Gluten-free
Alcohol-free,
Formaldehyde-free
Aerosol-free
Weinberg says "I'm very proud to offer these salon-quality products to the retail consumer yet at affordable prices!"
Her products deliver an odorless- and streak-free beautiful tan to users of all skin tones. These home sunless products also offer skin hydration benefits, thanks to these hand-picked natural ingredients:
Avocado oil
Green Tea extracts
White tea extracts
Vitamins A, E & C
Sunflower oil
Sugar Palm Beauty™ does not develop the orange or yellow tone that is common with other retail self-tanners. Formulated for all skin tones 1 bottle can produce a variety of shades just by layering. Another great benefit is that the formulation is gentle to use on both the face & body. This eliminates the need of the consumer having to purchase a separate face tanner, which saves them more money.
For more information about the Sugar Palm Beauty™ line of self-tanners, please contact us at info(at)sugarpalmbeauty(dot)com. We're always happy to answer your questions and provide a product recommendation. Sugar Palm Beauty is your No. 1 source for the best self-tanning products. Shop- http://www.sugarpalmbeauty.com/