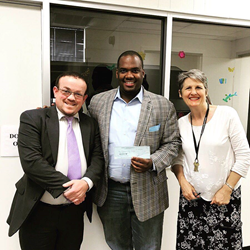 "It gave me an opportunity to attend a four year university. I am forever grateful for this and would like to provide that same gift to future entrepreneurs" - Kevin Polite
WASHINGTON (PRWEB) October 30, 2017
"You're already taking steps in the right direction. You are here, seeking an education, seeking to be enlightened." These were the earnest words of Kevin J. Polite, President and CEO of the Washington, D.C. based company Culdesac Chauffeur Service, in a recent address to a group of college students.
Polite has just announced that he has established the Kevin J. Polite scholarship fund, which benefits the Hillman Entrepreneurs Program at Maryland's Montgomery College. Montgomery College is Polite's alma mater, where he once led as student body president. "I attended this community college prior to transferring to the University of Maryland. It gave me…an opportunity to attend a four year university. I am forever grateful for this and would like to provide that same gift to future entrepreneurs," said Polite.
The Hillman Entrepreneurs Program is a three-year scholarship and educational program that supports, develops, and graduates students who want to give back to their local communities. Students complete their Associate Degree at Montgomery College and their Bachelor's Degree at the University of Maryland, College Park, earning a minor in Technology Entrepreneurship.
Polite established his company, Culdesac Chauffeur Service, in 2009 with a single vehicle, and has grown the company to offer multiple sedans, SUVs, limousines, and buses, as well as an auto detailing company. His business continues to grow in the competitive D.C. market, with client demand doubling each year.
Polite is excited for the future of the youth his scholarship will serve. "In speaking to these young entrepreneurs, I know they are our next generation of world changers," he stated.
Polite encourages all entrepreneurs to give back to the next generation of entrepreneurs and innovators. He welcomes tax-deductible donations to his fund, which is managed by Montgomery College. If people would like to donate, they can either email him at kp(at)culdesacdc(dot)com or donate directly online by visiting https://appserv.montgomerycollege.edu/onlinegiving/. From there, in the Gift Information section, under "Select an area of support," donors should select "Other" from the dropdown menu and type in "Kevin J Polite Scholarship Fund."