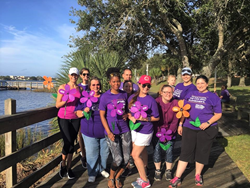 "This cause is near and dear to my heart as I lost my grandmother to Alzheimer's disease in 2013. Unfortunately, most of us have been affected in some way by this disease so I am beyond proud that our team was able to work together to accomplish our goal and make such a significant contribution"
FORT WALTON BEACH, Fla. (PRWEB) October 28, 2017
Led by Southern Residential Leasing General Manager, Wendy Hayden, a group of Southern employees joined the fight to end this disease. As part of the team "Sweet Southern Walkers," members surpassed their goal of $5,000 and led the Emerald Coast chapter's fundraising efforts for the walk. In their second year of participating, the team was supported by their company. Southern Rentals and Real Estate offered all employees to wear their favorite team t-shirt to work Fridays for more than a month - for a donation of course. Southern also donated a stay in one of their properties packaged with golf and more to be raffled on the event day.
Their fundraising efforts will benefit those affected by Alzheimer's in their community of Fort Walton Beach and surrounding areas by subsidizing advancements in care, support and advocacy. As the sixth-leading cause of death in the United States and the only one in the top 10 that cannot be prevented or cured, Alzheimer's was the perfect cause for the team to adopt.
"This cause is near and dear to my heart as I lost my grandmother to Alzheimer's disease in 2013. Unfortunately, most of us have been affected in some way by this disease so I am beyond proud that our team was able to work together to accomplish our goal and make such a significant contribution," said Ms. Hayden. We look forward to being an advocate and supporting this important cause for many years to come," she adds.
Southern Rentals and Real Estate is a leading provider of residential leasing, real estate, property management services, and vacation rentals in Northwest Florida and Coastal Alabama. Established in 1995, the company is owned and operated by two sets of brothers, Brad and Mike Shoults and Kevin and Kerry Veach, and Susan Carleton. Southern represents nearly 1,400 vacation rentals, approximately 1,000 long term rentals and countless real estate opportunities along the Gulf Coast. The Southern family of companies includes Southern Vacation Rentals, Southern Residential Leasing, Southern Real Estate Sales, and RE/MAX Southern. For more information, visit GoSouthern.com.