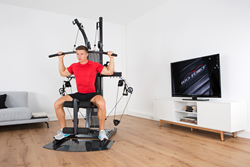 At Bio Force our vision is to revolutionize fitness training.
Exton, PA (PRWEB) October 30, 2017
Only Bio Force® uses innovative TNT nitrogen resistance technology (Total Nitrocell Technology) instead of traditional weight plates. Two hydraulic cylinders on the back of the Bio Force® generate an extremely consistent and smooth resistance – up to 250 lbs. of resistance even at high intensities.
Each cylinder is sealed and filled with nitrogen. Inside, they contain a moveable piston rod that provides light to strong compression according to the resistance selected. Virtually silent, TNT resistance technology makes noisy clanging and banging strength training with weights a thing of the past.
In addition to superior resistance technology, Bio Force® offers other competitive differentiators that are sure to excite the strength training, circuit training and sports training market like Slide & Lock Technology, allowing the user to change resistance weight in seconds for a fast, efficient workout. This feature keeps workouts moving with no bows or rods to change, no wasted time.
Designed with efficiency and performance in mind, Bio Force® does not require adding cables. With Bio Force® the intent is to spend more time getting stronger and less time on equipment set up.
Bio Force® is the most comprehensive and affordable professional-grade home strength training machine in its category. Features over 100 body-shaping and sport-specific exercises, step-by-step workout programs developed by professional trainer Eric Lichter and a rock-solid warranty.
The Bio Force® lineup, each offering 100+ exercises, includes: Bio Force® Basic Home Multi-Gym, the best-value model with up to 220 lbs. of resistance. Bio Force® Extreme Home Multi-Gym with up to 250 lbs. of resistance plus Ab Strap Accessory, perfect for sport-specific training. Bio Force® Challenge Home Multi-Gym featuring the Extreme unit, Ab Strap Accessory and Arm Curl Bench for the ultimate strength training experience.
Learn more about Bio Force® at bioforcedirect.com
About Bio Force®
At Bio Force®, our vision is to revolutionize fitness training. Pushing the limits of exercise possibilities, Bio Force® utilizes advanced fitness technology to deliver an extraordinary results-driven workout experience. With Bio Force home fitness equipment, the user can expect uncompromising quality, outstanding performance, ergonomics and training efficiency. Bio Force® built better by design.