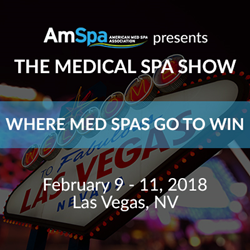 "Microblading could be the missing link to the largest demographic of loyal patients." -Maegen Kennedy, PA-C, Fleek Brows Microblading Training
LAS VEGAS (PRWEB) October 30, 2017
Among many of the top medical spas and non-invasive aesthetic practices, the single fastest growing treatment is microblading. On Friday, February 9, 2018, the Medical Spa Show, the premier trade show for non-invasive medical aesthetics, is now offering a full-day training course on this high return-on-investment (ROI) procedure, led by Maegen Kennedy, PA-C, one of the leading trainers in the field.
This 8-hour course features:

A Step-by-step demo on the entire procedure from start to finish;
In-class practice with artificial skin;
How to make more than $8,000 a week by adding this procedure;
How to fairly compensate your microblading artists so they don't leave;
How to market microblading to gain a patient's trust;
How to identify problem patients before the procedure;
How to use microblading as a segway to other cosmetic procedures including face-lifts;
…and more!
Microblading is a semi-permanent cosmetic tattooing treatment that fills in sparse eyebrows. A pen-like tool is used to "feather" fine, hair-like lines into the brows.
The technique uses a hand-held tool with needles to apply pigments that simulate additional hairs. The color fades over time, and yearly touch-ups are recommended to maintain optimal results.
The ROI is driven by a low consumable cost, and a treatment that, in many states, can be administered by a professional with a tattooing or permanent makeup license.
The microblading training course at the Medical Spa Show will be taught by Maegen Kennedy, PA-C, founder of Fleek Brows microblading training and Windermere Dental & Medical Spa in Orlando, FL whose one- and two-day microblading courses receive rave reviews.
The full-day Medical Spa Show microblading training course is $1799 for the training and conference together, or $1299 for the microblading training alone. Attendees who sign up before November 30 save $200.
Visit http://www.medicalspashow.com/microblading for more information.
The Medical Spa Show—February 9-11, 2018, at the Aria Resort & Casino in Las Vegas—is the only national conference and trade show focused specifically on non-invasive medical aesthetics. The show's four tracks of education highlight the latest trends, techniques, technology, and laws relating to medical spas and aesthetic practices. The Medical Spa Show Advisory Board is comprised of many of the top practitioners, practice managers, and owners from across the country, ensuring that the Medical Spa Show offers education by medical spas, for medical spas.
About the American Med Spa Association: The American Med Spa Association (AmSpa) provides business and legal resources to medical spas and aesthetic practices across the country. AmSpa's events—including Medical Spa Boot Camps and The Medical Spa Show—provide business and legal best-practices to anyone entering the medical spa space or looking to improve their existing business. AmSpa members receive access to legal summaries of the laws governing medical spas in their state, access to an exclusive medical spa insurance program, and many other benefits. 312-981-0993, info(at)americanmedspa.org.