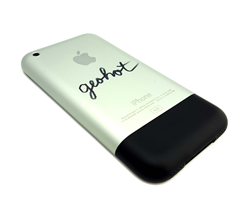 I asked him what he wanted for it - he said a Nissan 350Z
ERIE, Pa. (PRWEB) October 27, 2017
The "2nd" unlocked iPhone goes up for auction to commemorate the 10th anniversary of the release of the iPhone by Apple.
17-year-old George Hotz (aka GeoHot) announced on his blog in August 2007 that he had just hacked the newly released iPhone that Apple Inc. had introduced earlier that summer.
News of the "jailbroken" iPhone made national and international headlines while shares of Apple stock went up and shares of AT&T stock went down as CNBC interviewed Hotz.
The unlock was significant because it "untethered' the iPhone from its intended AT&T GSM network which allowed the phone to be used on other carrier networks. The technology hack sparked an international debate on ownership of data and software within a tech device.
Hotz autographed the "2nd" unlocked iPhone and demonstrated it while being interviewed by most national news networks and outlets and then placed it for sale on eBay. A few days later he withdrew the phone from the auction site after bids for the historical device went into the millions of dollars. Hotz feared the bids were false and stated, "There's no way anyone would pay millions for this phone."
When Terry Daidone, founder of a large cell phone refurbishing company heard of the failed auction attempt he contacted Hotz directly about the iPhone. A few days later In August 2007 Daidone traded a $38,000 sports car, 3 new iPhones, a consulting job, and an undisclosed amount of money for the autographed hacked device.
Daidone announced that the infamous iPhone will go up for sale this month to coincide with the 10th anniversary of the release of the original iPhone and the famous hack. Daidone has selected MaxBack (http://www.maxback.com), a leading reseller of used smartphones, as the exclusive sales agent for this one-of-a-kind device.
For more information and a link to the live auction, visit http://www.maxback.com/geohot.