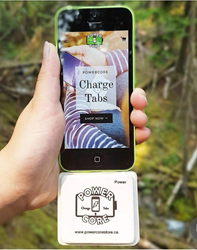 MESA, Ariz. (PRWEB) October 27, 2017
With all of the crazy weather, power outages and general insanity going on in the world these days, it's a smart move to have phones and devices fully charged in case of emergencies. PowerCore Charge Tabs give tech an instant boost with pre-charged, disposable tabs. Compatible with iPhones, iPads and Androids (any Micro-USB), be proactive and prepared with up to 4 hours of instant power, on the go. Also perfect for long road trips, flights and commutes, these 1200 mah chargers can be easily kept in purses, pockets and bags for instant power needs.
4 out of 5 people say they want to be able to walk and talk while charging their devices. We've all struggled with the horror of a dead phone. That blank screen on the trip home that leaves one at the mercy of a chatty commuter, the sudden loss of Google Maps while heading into an unfamiliar part of town, or even a morning alarm never going off.
No more searching for an outlet – just plug it in and get up to an extra four hours of charge for any situation.
One of the best portable chargers on the market, the PowerCore Charge Tabs come equipped with a power switch to increase shelf life. The biodegradable shell makes recycling and disposal easy.
Parents, kids, travelers, outdoor adventurers, fitness fans that enjoy music during their workouts; no one wants to deal with the hassle of being disconnected. Constantly on the go or stuck in the unfortunate situation of being without power in an emergency situation, never go without a charge again with PowerCore Charge Tabs.
For the upcoming holiday season, endless shopping and gift wrapping, keep PowerCore Charge Tabs in mind for perfect, affordable stocking stuffers for family, friends and coworkers.