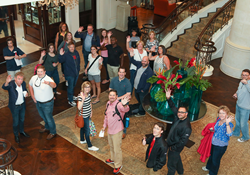 Our clients always enjoy the opportunity to be with their peers. That's really what they come to BthruB for: best practices and recommendations from people who share their challenges and pain points.
ATLANTA (PRWEB) November 15, 2017
Atlanta-based incentive company Incentive Solutions just wrapped up its fourth annual BthruB Leadership Summit, hosted October 8th – 10th at the St. Regis Atlanta hotel. The summit brought together B2B incentives industry experts and channel sales and marketing leaders for three days of best-practice brainstorming, sharing experiences and posing strategic incentive solutions to B2B marketing challenges.
The focus of the 2017 BthruB Summit was the advancement of leading online incentive program technology and the creative strategies that drive incentive technology to have the greatest possible impact on B2B marketing and sales goals.
Incentive Solutions' New Incentive Technology
At the summit, Incentive Solutions' revealed the latest innovations to their advanced, online incentive platform:

administrator dashboards with program goal tracking, activity reports and analytics available in easily digestible graphics and charts
gamification features allowing incentive program participants to win reward points upon enrollment with a fun, virtual "wheel of fortune" or scratch-off card
mobile-optimized leaderboards
updated incentive rewards shopping experience
widgets displaying participants' reward wish list items, recent awards and goal-tracking
Google Translate widget for a multilingual participant experience
The announcement of new incentive technology set the stage for BthruB Summit attendees to consider new, innovative and more effective ways to use incentive programs in B2B marketing strategies.
Presentation of 2017 B2B Incentives Program Benchmarks Study
Incentive Solutions' Luke Kreitner (VP of Sales) and Mandy Freeman (Director of Account Management) presented their study of incentive program benchmarks, based on five years of data from the company's most successful B2B incentives programs. These findings gave attendees a clearer definition of success in terms of incentive program activity levels, redemptions rates and participant engagement.
Afterward, B2B marketing and sales leaders had the chance to work with incentive program experts directly to develop incentive program action plans and strategies based on the program benchmark data presented.
"It's great to have something we can compare to," said Incentive Solutions Account Manager, Ashley Lodge. "I'm really looking forward to seeing improvements in my programs based on the action plan we came up with. They key is innovation—always staying on top of new incentive technology, understanding how to use it in B2B marketing, and being willing to change things up."
B2B Incentives Program Best Practices and Panel Discussions
For most attendees, the best practices presentation and panel discussion with their peers were the highlights of the 2017 BthruB Leadership Summit.
Colette Garofalis, Marketing Program Manager at plumbing wholesaler Ferguson, presented insights key in understanding how Ferguson managed a highly successful contractor loyalty program in which program participants averaged 665% more revenue per month than non-participants and were 80% more likely to visit Ferguson's website on any given month. Ferguson's B2B incentives marketing strategy included:
distributing reward points to participants automatically upon enrollment
opportunities for participants to earn 2xs, 3xs or 4xs bonus points on certain purchases
regular marketing campaign emails to engage participants with reward balance e-statements or anniversary reward points
chances for participants to earn points for passing online training quizzes or accurately answering daily trivia questions
marketing campaigns targeting participants with high point balances to redeem points for unique rewards outside the reward catalog
Along with the B2B marketing strategies presented by Ferguson, BthruB attendees heard from a Client Expert Panel of five channel marketing and incentive program engagement leaders, who answered questions on incentive program engagement, distributor promotions, the benefits of an online dealer portal, customer loyalty programs, incentive mobile app benefits and program ROI measurement.
The last four years of the BthruB Summit have illustrated how well B2B sales and marketing experts respond to real-world incentive marketing best practices and experiences. "Our clients always enjoy the opportunity to be with their peers," says Luke Kreitner. "They really like hearing what the others are doing and how. That's really what they come to BthruB for: best practices and recommendations from people who share their challenges and pain points."
Other presenters at the 2017 BthruB Leadership Summit included Incentive Solutions CEO Steve Damerow and Dr. Rajeev Dhawan, Director of the Economic Forecasting Center at Georgia State University, who delivered a presentation on the current economic environment and trends that define today's B2B marketplaces.
About Incentive Solutions
Incentive Solutions, Inc., founded in 1994 based in Atlanta, GA, offers online rewards, travel incentives and gift card rewards. Since its creation, Incentive Solutions has focused on delivering more than just rewards, innovating the incentive industry by utilizing emerging online technologies. Acting as valued partner and trusted advisor to clients, they help organizations increase sales, motivate employees, build customer loyalty, create positive work environments and improve channel sales relationships.
Incentive Solutions
2299 Perimeter Park Drive, Suite 150
Atlanta GA 30341
1-770-457-4597
1-866-567-7432
https://www.incentivesolutions.com